. . . .
A
ccording to all the rules of every land and place, with the long weekend of a holiday's other related anxieties, pressures and mishaps -- come medical emergencies. So the night before the 4th, while all hell is descending and breaking out in our neighborhood, NYC and the country, a medical emergency sent us out into the streets at 11 PM, to find a way to get to an emergency room. Fortune favored us and we were inside and the patient was being seen to all within 15 minutes of realizing it was indeed necessary to go to the emergency room.
All is now well, in the sense of recovery. Additionally as we were so fortunate, we didn't rack up tens of thousands of dollars for an ambulance to the ER. Nor did we need to spend the night. We were home again via a car service the ER called for us by 4 AM. Things are going slowly but they are going surely. And we were very, very, very lucky. It could have been, well, I don't even want to think about what it could have been.
~~~~~~~~~~~~~~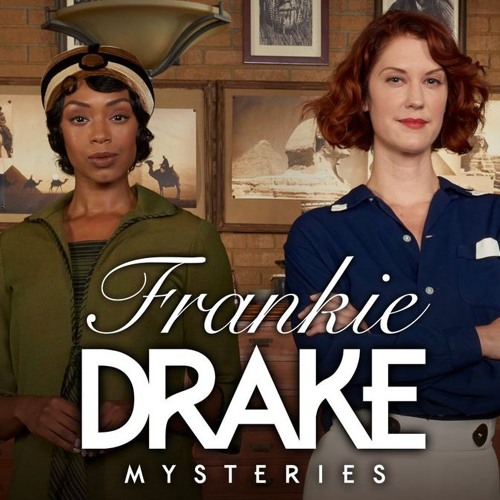 T

he Frankie Drake Mysterie

s (2017) season 1, CBC, streaming on amazon prime.
. . . . The Frankie Drake Mysteries is brought to us by the Murdoch Mysteries team (2008 -2020, 14 seasons so far). At this point anyway, FD is a more light-hearted, but it too deals with mysteries and crimes. It too has a dependable ensemble cast of characters who live in Toronto. Like MM Frankie Drake frequently features a rotating appearance of real world figures. The first and third eps included Ernest Hemingway as an intermittent character, Mack Sennett in the 5th, Al Capone in the 7th (I'm up to the 8th ep tonight). However, while MM is fin
de siècle
, Frankie Drake's time is the Jazz Age.
Happily, unlike Murdoch's Toronto, Jazz Age Toronto brings us lots of good music, which is remarkably well done, meaning how seldom long-running situational television does music well. Unlike Murdoch too, there are many characters of color, including Frankie's partner in the detective agency, Trudy, who sings wonderfully and has extraordinarily beautiful, huge eyes and a wonderful family with two of the most charming younger brothers ever. Frankie's intermittent black boxer boyfriend seems to be a model of some sort for one of historical Hemingway's boxing stories. The series has been renewed for a 4th season so somebody is watching it.
The
mise en scène
and the costumes are very high quality -- particularly the clothes. The designers put a lot of art and thought into the costuming. Classic 20's fashion, but with their own interpretation of it, which is always a joy to the eyes. The earrings, o their earrings! They are to die for!
As with MM, I wasn't thrilled by the first episode, but like MM, Frankie Drake quickly charmed me, and charms me ever more in each subsequent episode. In the case of Frankie Drake what initially captured my interest was that the prejudice and racial conditions (and those of women!) of 1920's North America were not ignored, yet the writers and actors hit the issue with the ensemble characters perfectly in a tone that matches the tone of the show – to my ears anyway. It does not make light of racial prejudice, or how it affects the characters -- but the racism isn't the point of the characters. The point of the characters is always entirely who they are, from backstory with family, friends, lost husbands, and most of all, the work they love and work very hard to get to do.
The show's reshuffled all the characters, locations and other elements that charmed us in Murdoch, with the real difference of seeing the stories primarily from the perspectives of the Toronto Outsiders, whether of color, entertainers, non-traditionally aspirational women, women, who because of WWI, have lost their fathers and husbands (Canada sent a whole lot of men to the European slaughter). This reveals a Toronto beyond the white British ruling class, the Toronto that has always attracted all sort of immigrants, refugees, criminals, and those who just like moving around.
Women are centered in each episode. The show is unabashedly feminist, though not preachy about it. Not only white Frankie and black Trudy as the leads, but many other sorts of women are featured, particularly working class women. An Asian woman is a continuing character, as is a plus-size woman. Trudy gets featured at least as much as Frankie. Thus the title is rather unfortunate.
I'm liking the series a lot. I wish seasons 2, 3 and 4 were available!
From Wikipedia:
Connections with Murdoch Mysteries

It is revealed in Frankie Drake Mysteries that the series takes place in the same universe as Murdoch Mysteries and that it takes place years after the events of Murdoch Mysteries. Some main and recurring characters from Murdoch Mysteries make appearances in Frankie Drake Mysteries, such as Inspector Thomas Brackenreid (Thomas Craig) who is revealed to have retired as an inspector and head of Station House Four. Also Constable George Crabtree (Jonny Harris) is revealed in the eighth episode of the first season ("The Pilot") to have retired from Constabulary to become a successful investor and Detective Llewellyn Watts (Daniel Maslany) is revealed to have become the successor to Brackenreid as the new inspector and head of Station House Four.[11][12]