. . . . Sister Novelists: The Trailblazing Porter Sisters, Who Paved the Way for Austen and the Brontë by Devoney Looser (2022).
Washington Post review here, which upon reading the review, I immediately ordered the biography. These Porter sister novelists were the mothers of English historical fiction. I have often invoked Sir Walter Scott as the father of historical fiction (and Dumas as godfather), but as deep as my knowledge of English literary history is, I'd no idea these women had existed. Can we guess why, one wonders . . . .
Maria and Jane Porter published the first Brit historical fiction in novel form in several books in the first decade of the 19th century.
Delaware Art Museum
| | | |
| --- | --- | --- |
| | Book cover design for Thaddeus of Warsaw, by Jane Porter | ATTRIBUTED TO: Walter Stewart (American illustrator and painter, 1902–1981) |
Maria Porter, in her 1803 Thaddeus of Warsaw, created
... "the historical novel as we know it" in her 1803 tale of a Polish war hero who becomes a refugee in England. "What was new about 'Thaddeus of Warsaw,' " Looser explains, "was its mingling of climactic historical events with the conventions of biographies, romantic tales, and probable domestic novels." Contemporary critics dubbed it "a work of genius," and it was a sensational bestseller. ....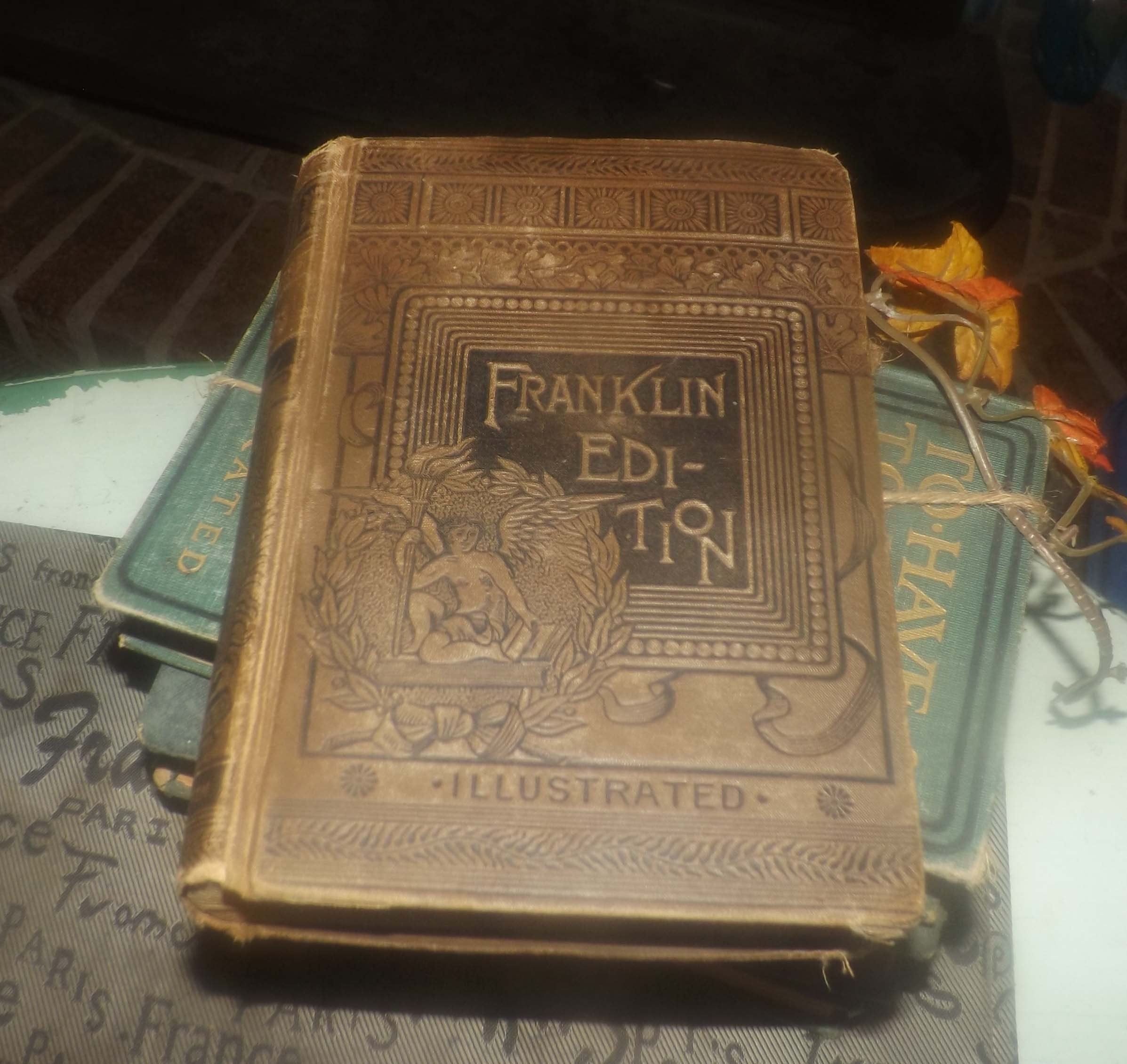 ANTIQUE (1810) FIRST-EDITION HARDCOVER BOOK THE SCOTTISH CHIEFS. JANE PORTER. FRANKLIN EDITION. PUBLISHED PRINTED ENGLAND BY WORTHINGTON

In 1810 Jane Porter published The Scottish Chiefs, telling the tale of William Wallace's battle for Scottish independence from Britain, published quite prior to Scott's first novel, Waverly, 1814, that told of of the 1745 Jacobite rebellion.
These two sisters' novels were massive hits, best sellers, out of the box. Would that have had any influence on Scott's literary choice of form and subject? One commentator to the review observed,
"I find it interesting that of the twenty-six 'Waverley novels' written by Walter Scott not one was set during the time of William Wallace and King Robert I."
Author Looser did address this -- how could she, how can we, not?
... [Looser] is more cogent on the question of why these popular and influential authors are virtually unknown today. The root cause of the sisters' decline in literary reputation and, eventually, sales, Looser writes, was the phenomenal success of Walter Scott's "Waverley" in 1814 and the author's failure to acknowledge that the methods he employed in his historical novels were very similar to the Porters': "Critics would increasingly claim that the Waverley novels had elevated the genre of fiction — and especially historical fiction — bringing to it a superior new (masculine) excellence, while correcting supposed previous (feminine) faults."
Are we surprised yet?
.... Jane in particular resented this and in 1827 wrote a pointed short story, "Nobody's Address," that implicitly accused Scott of reducing his literary precursors to nobodies. By the time she died in 1850, having survived Maria by 18 years, Jane had been reduced to living with a brother and receiving charitable grants from the government. Her achievements deserved better recognition, and although Looser's thickly detailed biography could stand to be a little less detailed, it pays overdue tribute to pioneering siblings unjustly neglected by literary history. ....
~~~~~~~~~~~~~~~~~
. . . . A perfect day -- gold, red and blue -- so clear and still, low humidity for a change, and the temperature in the seasonal 50's. Receiving audio royalties for The Books, was a good start to the day. However, packed restaurants, streets and sidewalks. The annual Village Halloween Parade cattle stanchions are unloaded and going up too, for Monday, further blocking access to sidewalks and intersections. Getting around down here is nearly impossible; I had to fight my way through the outsiders to my polling place. This is the first day of early voting in the Midterm election. Alas there was so little, were so few, to vote for; mostly I was voting against.
Weep for the city, weep for the state, weep for the nation, weep for the world.
However, after Monday's Hell Night, Tuesday night, known in some places as El dia de los muertos and others as the Day of the Dead, in Haiti is Festival of the Dead, Postmambo's Fèt Gede*, will zoom throughout the US and Europe. This is the third year Postmambo is hosting a Gede festival:
Postmambo Movie Night

presents

Fèt Gede in Weimar America

Tuesday, Nov. 1, 7 pm eastern

note earlier-than-usual start time

We'll warm up with some Haitian music videos, including some of my all-time favorites, namely RAM's videos featuring Gede, lwa of the dead. Including their new one, "Gede Vim Anwo." Mr. RAM himself, Richard A. Morse, has indicated that he will be able to drop in and talk to us from his pied-a-terre in New Orleans, where RAM is presently rehearsing and gigging, about these awe-inspiring videos.

==> Our main feature will be Maya Deren's Divine Horsemen: The Living Gods of Haiti, shot between 1947 and 1954. We'll talk about it afterwards with my fave co-host, Dr. Elizabeth McAlister. (Revisit her January 2022 Postmambo Session on "Funerary Rites in Haitian Vodou" here.)

==> More guests to be announced, including an instructor in Gede dancing . . . Drop in for Fèt Gede / All Saints Day / Day of the Dead / at whatever time you can make it on Tuesday Nov. 1, starting at 7 eastern and continuing until 11 or so. More info to come.

I'll be sending the Zoom link out to this list on Tuesday at 5 p.m. eastern . . .
Get your purple, black and white, your single-lensed shades and black bowler hat, and be your own Gede self.
* Fèt Gede is naturally huge in New Orleans, as well as Haiti and eastern Cuba. The Morse and Ram's pied-à-terre there is so important, not only for the cross-aculturation going on between them and the city's indigenous vodun population and musicians and Head, but because Haiti is so very very dangerous -- no exaggeration to say Haiti is very dangerous -- for everyone, on so many fronts from the second invasion of cholera, lack of water and food, drugs, gang and 'government' violence -- climate change. You name it, it's there in the perfect storm of calamity that has come to this nation, thanks to relentless, historical, racist politics on the part of the US and Europe.