We have appearances in Boston on Monday, February 29th.
1:30 PM : WHDH 7NBC-Television, "Higher Ground," for a 1/2 hour, with producer-host, Carmen Fields.
UPDATE: This is a pre-taping, not a live broadcast. This is a monthly program.
This is a monthly, black issues program, which is now all the more important in the light of what NBC national has done with
Melissa Harris Perry's program
-- one of the very few television programs that has consistently dealt with new stories and issues that are of daily matter to our African American communities, and which should be of daily matter to us all.
| | |
| --- | --- |
| Porter Square Shopping Center | : 25 White St, Cambridge, MA 02140 |
7:30 PM Porter Square Books, 7:30 PM
There's supposed to be a radio interview too, but we're having trouble with the tight scheduling, so that may not take place.
CUNY Grad Center, 5th Ave, NYC
On March 8th, International Women's Day, there is a splendid event sponsored by the CUNY Grad Center.
Here is the Facebook page the GC put up
for this
American Slave Coast
event. As with most Grad Center events, this one is free and open to the public. This being security conscious NYC, however, valid I.D. is necessary to access the building's theater.
With the participants including Professors
Julie Skurski
as moderator, and as discussants with Ned and Constance Sublette, early American historian,
David Waldstreicher
and
Kellie Carter Jackson
, attendance for anyone interested in our nation's colonial and imperial history and its connections with white supremacy and slavery, will be more than worthwhile.
Tuesday, March 8 at 4:30 PM - 6:30 PM in EST
The Committee on Globalization and Social Change
365 5th Ave, Rm 5109, New York, New York 10016
A book launch for The American Slave Coast by Ned and Constance Sublette, featuring David Waldstreicher (The Graduate Center, CUNY) and Kellie Carter Jackson (Hunter College, CUNY), moderated by Julie Skurski (The Graduate Center, CUNY).
Reception to follow.
One of the best history books ever written about the United States.—Counterpunch, Dec. 31, 2015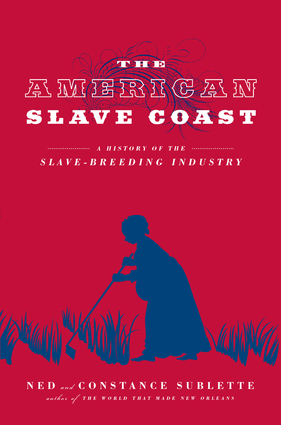 The American Slave Coas
t got mentions again this week in the media:
Fort Donelson Battlefield! Abraham Lincoln!
Our book is sourced
.
More reviews too:
CHOICE: The Academic Library Journal
and the S
an Diego Book Review
.




As well, this week TASC received an audio book company's offer for both cd and download.

So, Slave Coast is still workin' its stuff.