. . . . The Frankenstein Chronicles first aired 2015 on ITV, Sean Bean as associate producer of the first series/season.
Picked up in the US by A&E, both season 1 and season 2 are now streaming on Netflix.
It's pleasant seeing Sean Bean on screen again. This time he's John Marlott, a grizzled river police officer, diffident, who knows his place. He's carrying, naturally a heavy burden of guilt that has something to do with his dead wife and child.
London, 1827. There are some sly references to previous roles. Sharpe's Napoleonic wars are part of them, as his character served in the Second Battalion 95th Rifles; he has the green jaket and a Waterloo Medal. At one point Marlott hums
Sharpe's
theme, "Over the Hills and Far Away." Another musical signal of a past part were in an appropriate scene that referenced Lord of the Rings motifs.
Robert Peel tasks Marlott with investigating who it is digging up the bodies of young children, and / or murdering them. Robert Peel, "father of modern British policing", during his first stint as Home Secretary (1822- 1827) will soon be organizing his London "peelers."
Some other characters from the period participate, about which I could be rather skeptical, particularly the deathbed William Blake and widow Mary Shelley's relationship. It was Mary Wollstonecraft, Mary Shelley's mother, who knew Blake; he illustrated her instruction book, Original Stories from Real Life (1791).
*
In the show, a page of Blake illustration to one of his own works plays a role, so maybe it is fine that Mary Shelley knows Blake intimately enough to attend his deathbed. Additionally Mary Shelley's dead husband, Percy Shelley, admired Blake greatly.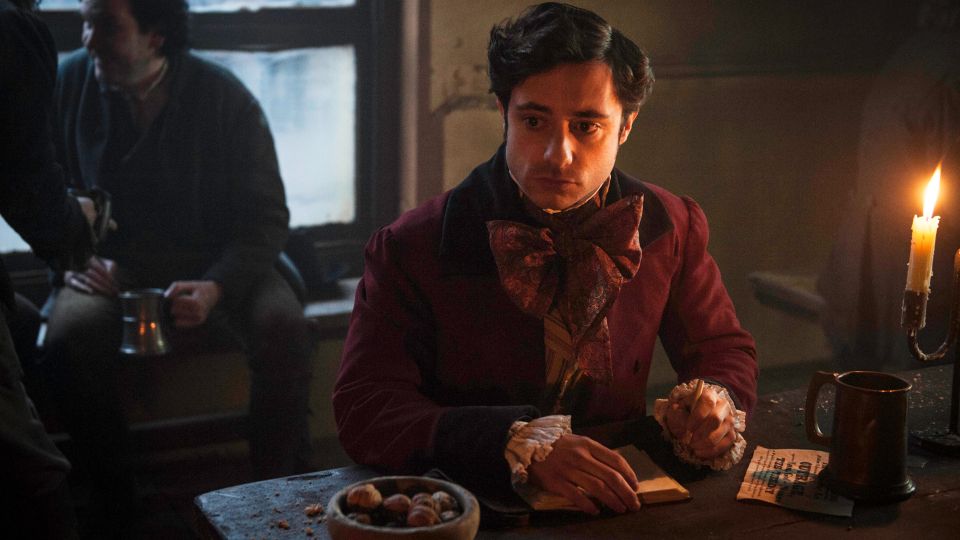 Boz / Charlie Dickens; do you believe it?
Boz/Dickens getting involved in such a grim and grisly case is easily believable -- except he was still a kid in 1827, not writing or working on a newspaper.
Still, I admit to a certain amount of satisfaction with a series that earnestly attempts connect bloody insane butchery with London's literary scene.
Lots of the wet, filthy, grey, miserable 19th c London mean streets whose mud we've traversed so often via historic period television thrillers such Ripper Street, Taboo, etc., whether set in the eras of the Napoleonic Wars, the British East India Trading Company, or in that of the Boer Wars (but never, of course, in the frothy fandangos of the ilks of Downton Abbey!).
Many of the scenes are that "let's slit our wrists right now from the sheer misery of this mud blue screen."
Another criticism, if one feels the need, is that there might be too much the sense of check off the boxes of what an historical period drama must have: one black character (in a subordinate role) 🗸; at least one strong woman (probably in a subordinate role) 🗸; burden of guilt or sin or deep secret on the protagonist 🗸; a temptress woman of a higher social rank who may well be eviLe, or just needing the heart of gold belonging to the man who is the protagonist 🗸 -- well you get the idea.
Still, it is Bean and a highly professional, talented cast, and the writing is not bad and a lot better than much.
-----------------------
*
Wollstonecraft's Original Stories From Real Life with Blake's engravings can be found here on Gutenberg.