. . . . Looks like the Postmambo digital festival-tour, NOLA Reconnect, is a go -- three weekends in October.
Interviews with figures such as Jason Berry and John M. Barry, film makers like Lily Keber, Mardi Gras Indians, musicians, live music, cooking lessons from New Orleans's 5 Star chefs, and o so much more. People know they're stuck at home, and they are desperate to be able to look at other faces, hear other voices and interact with People, both those they already know and people they don't. (El V frequently mentions how much he misses meeting new people -- he loves meeting people.)
Some of the Frequent Rumbero Travelers of Postmambo, who paid in for the March tour that had to be canceled have said "Keep the change," as there are costs that don't have to be met, such as lodging and transportation, so they were entitled to a refund. So Postmambo is going to take the 'change' and use it to fund participation for students who would love to be part of this experience but can't afford it. A scholarship in New Orleans history, music and culture, so to speak.
People are Zoomed out, so we can't do it that way -- it has to be interactive, so people can interact with each other, even if it is digitally. Great techs on the ground there in NO who can't wait to make this happen -- who have had quite a bit of experience doing this kind of thing already. The captain of our ground crew did this with a conference in Havana herself -- she directed it -- from New Orleans! Technology sometimes can be our friends. People are really excited about this.
~~~~~~~~~~~
. . . . I read John M. Barry's The Great Influenza: The Story of the Deadliest Pandemic in History (2004), plus later editions up to 2018) in about 5 days.. Each section of the book is fascinating and filled with pertinent information. I anticipated returning to it at my evening reading time throughout, despite how very painful and gruesome so much of it was. Infuriating too, as we're experiencing all the same issues with our own pandemic a century later, except for not SEEING it, the way people of every class back a century ago saw the Great Influenza. Indeed, nobody could escape seeing and experiencing.
Barry never disappoints. As I began reading the first section of biographical background to the heroes of The Great Influenza,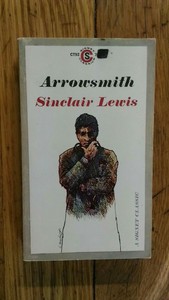 This is the edition in which I read Arrowsmith the first time -- A Signet PB.



I immediately flashed on how much of the trajectory was familiar to me from reading Sinclair Lewis's Arrowsmith (1925) -- which gratified me so much reading it the first time in my farmgirl's bedroom, because it began in North Dakota. So I looked, and there the book is, in the index. It was part of the context of discussing the institutes and universities the Great Influenza's hero medical scientists who founded such institutions as Johns Hopkins (which back then was referred to by all and sundry as "the Hopkins"). He has a small sub-section too, concerning how little writing and reference was committed either during or after to the Great Influenza; not by regular people or by writers like Hemingway, whose father was a doctor, or Faulkner.
I can think of only Katherine Anne Porter, in her short novel, Pale Horse, Pale Rider (1939 collection, 3 novellas) tells the story of a couple caught by it. Pale Horse is one of the few works I've of hers I have read though. Porter herself said that the title story was about the pale rider, Death, who takes away an entire era, as illustrated in the ironic last line: "Now there would be time for everything."*
Chaucer and contemporaries didn't write about the Great Mortality either.
This time around, as with 9/11, and now c19 writers were dedicating their their fingers from the gitgo to describe in dreary irrelevant detail every nuance of their own precious sensations, emotions, actions and non-actions, in their lovely summer retreats, second homes, surrounded by green and water, where they take walks in Nature and never see another person. They don't see Covid-19 and those it sickens and kills either.
Nor does anyone else, in the USA at least, unless poor and of color, or working in the hospitals, morgues, nursing homes / assisted living and ambulances, actually SEEN anyone sick with c19, whether they recover or they don't. Back with the Influenza nobody could hide from it and what it wreaked. It was in everybody's house -- and in many places everyone who lived in that house died and there was nobody to move the bodies. And when it was over, who was left had to deal with them in however the region was dealing, whether in Philadelphia or a 3 house village in Alaska. But the yahoos out there now, rich and whatever -- they haven't seen and they know they aren't going to, so they are utterly unaffected. It's their life and they'll lead it as they choose.
Were writers of all sorts exhausted from 3 years of pandemic, the Great Influenza's indescribable gruesomeness that millions and millions experienced up close and personal, for themselves. and in company with everyone else around them? So very different from c19 -- so far -- but then the Great Influenza rolled for 3 years -- 1917-1920, with successive waves. Though generally, not always in every spot, it became rather milder and didn't outright kill as many -- it still killed in large numbers. So people had to get on with making life again, and also just wanted to forget this?
A lot of the literary writers were in the war one way and another. Then came the Roaring Twenties and Prohibition (1920), followed by the Great Depression, followed by another great mobilization, WWII. Maybe there wasn't time to work all this horror out into words?
Something else too ... ithe Influenza, like c19, creates hallucinations and changes in the brain, which sometimes never changed back (people think this happened with Woodrow Wilson at the Peace Conference when it got it). Flashbacks, even, sometimes to things that never happened. It sure does sound like the descriptions of Shell Shock. So those poor saps got shell shocked from this incredible stupid war -- and they got this on top of that, along side of that. No wonder so many people were lost after that stupid war ... the Lost Generation.
* Katherine Ann Porter provided me with little of interest in that time of my life when I read her work, though I am hard-pressed to say why that was the case. I think it's because horse was in the title and I was still young enough to be hopeful when 'horse' was in a title, inside there would be a 'real' horse.