. . . . This week I completed the first season of Taboo.
The premise itself seems written with me particularly in mind. It opens in 1814 as a mysterious figure, with a terrible reputation, long assumed dead, named James Delaney, arrives in London. It is still the War of 1812 (my "favorite war" -- meaning the war I've studied with the greatest pleasure -- I never get pleasure out of studying the War of the Rebellion), while secret negotiations to end it are taking place in Ghent. Due to the inheritance from his recently deceased father, Delaney is the focus of extreme interest to the Crown, the United States and the East India Trading Company.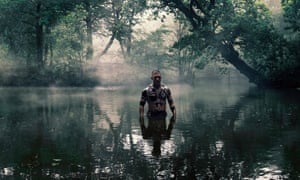 Delaney hears the dead singing.
It was one of the most immersive, ah-hem, series I've seen in a while. Water imagery, drowning imagery, along with that of dead who sing their siren songs, everywhere.
. . . This is straight-up Bo-Kongo cosmology and belief -- these characters crossing that Kalunga Line, which is the water, between the land of the living and the land of the dead -- which is why Taboo's principal / protagonist Delaney knows all. He's crossed and re-crossed that line many times, beginning when he was a newborn.
This referencing to his experience in his many years in Africa, as a slave himself, slave dealer and trader, and living in the Angolan province of Cabinda (Kongo, a/k/a especially in his time as Portuguese Kongo) is brilliant writing, that proves how carefully the writers did research their material. This is how Alexandre Dumas, godfather of Historical Fiction, researched his novels. As he also advises, the research isn't supposed to call attention to itself, and in Taboo it doesn't. It doesn't matter if the watcher knows these things, but if the watcher does know about Kongo religion, culture and practices, and Kongo history and geography, it adds a great deal -- particularly to the viewer's appreciation of the writers.
My experience of Taboo is the opposite of what was described by the many people who disliked it to a progressively greater degree, when it aired last year, to the point they quit watching before the 8 episodes concluded. Why so many viewers thought that nothing happened during most of it, I don't understand, but then a lot of people -- even the same people -- say the same thing about season 2 of Jessica Jones (another of the best in a while), which I don't understand either.
Surprisingly too, though it rains a lot in Taboo, and there is, of course a lot of mud -- and even Mud Larks, those children who squeeze a bit of living out of the flotsam and jetsam washed up by the Thames along the piers -- the show is nowhere near as dreary gloomy grey as other London-based period series -- there is even sunshine, and streets that the street sweepers, who would be everywhere, have cleared of horse manure. (Evidently no street sweepers were in the world of the Olympic Champion of 19th century filthy London, the terminally boring The Frankenstein Chronicles -- despite Sean Bean, one just had to give up.
Peaky Blinders' Alfie Solomons.
Maybe I could criticize Tom Hardy's delivery as Taboo's James Delaney as being too much like that of Cillian Murphy as Thomas Shelby in Peaky Blinders (one of my all time favorite series, due no little to Cillian Murphy and his Shelby. For those who haven't seen it, in Peaky Blinders, for two seasons, Hardy and Murphy played frenemies, though the enmity as well as the helping hands, were all business, which both of them understood.
In Taboo, Hardy retains Peaky Blinders' Alfie Solomons's characteristic grunt, as well as Alfies low, throaty mumble. The voice is also hard to hear, never raising its volume, and getting slower and more quiet the more dangerous and angry James is. This latter is shared with Peaky Blinders' Thomas Shelby -- but Cillian Murphy originated this mannerism (and he's easy to hear and understand), in the two seasons prior to Alfie's appearance. Delaney also keeps Shelby's long stare into the distance and the future (during which Delaney's presumably communing with the dead).
Thomas Shelby too has crossed the Kalunga Line more than once, though his crossings involve earth and fire, not water -- but he's an Irish Roma, not African or Native American.
By his return to London, Delaney is both African and Native American. He was given an African education -- a terrible one. His mother, whom he's never known, was a Native American from the Pacific Northwest. However Delaney presumably possesses something of second sight via his Irish father, and maybe his mother too. I could not help recollecting that the Shelbys are an Irish Roma clan.
There were occasions when I thought I'd been catapulted up the time line to Peaky Blinders, so closely do the actors resemble each other when speaking and often, in gesture.
Both Shelby and Delaney ride beautiful horses, something else they have in common.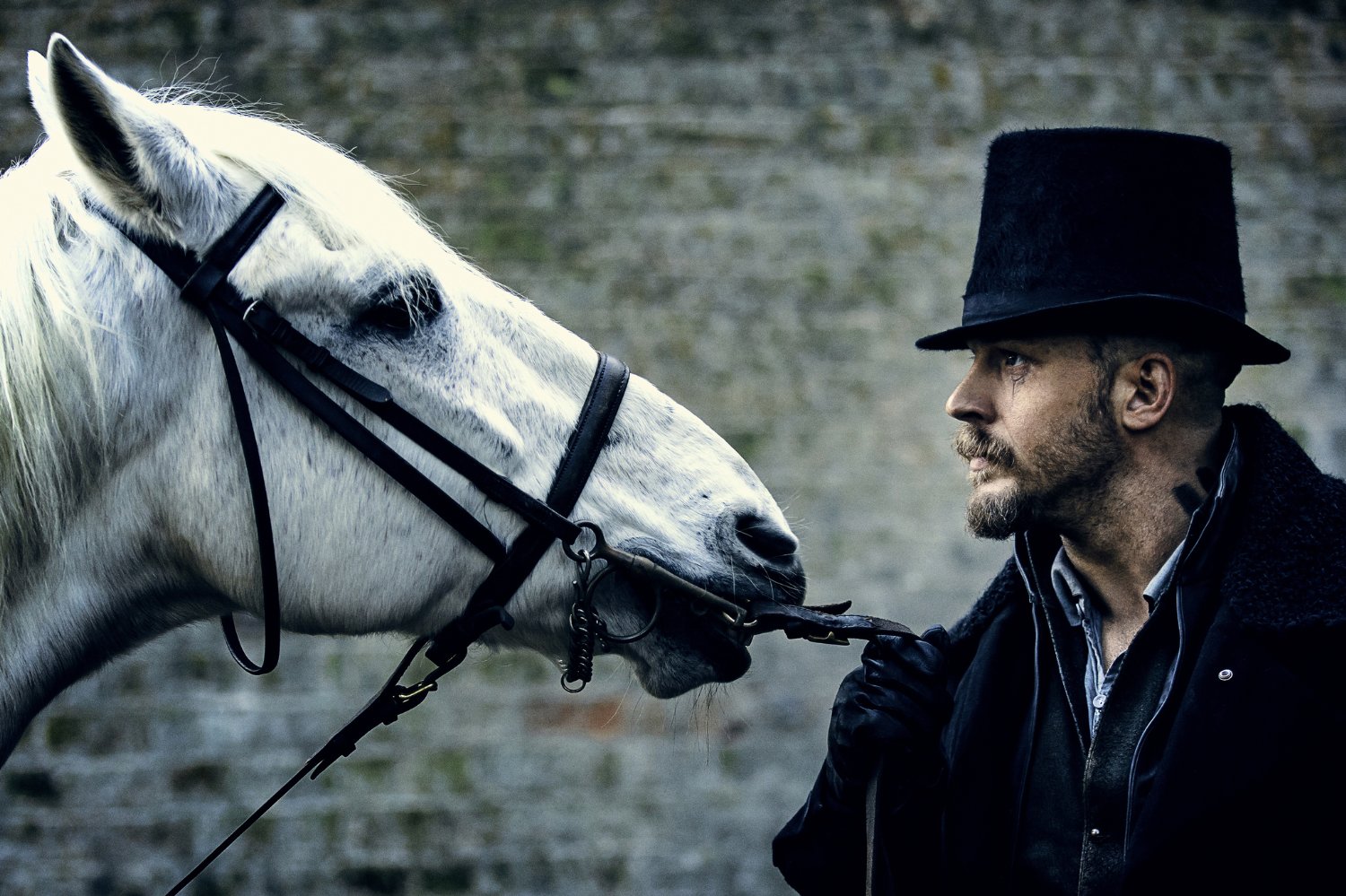 As one can see from the above photo, Shelby on the right, Delaney on the left, that resemblance of voice and body language is quite and achievement, because the two actors do not look alike. So I, at least, find this more interesting to think about than to criticize.
Both of the actors and their characters present intense physical restraint and self-control, even while drinking themselves blind -- and both are capable of the most extreme explosions of violence and are adamant ordering others to commit violence. The difference between Taboo's Delaney though, and Peaky Blinders Alfie and Shelby-- is for the latter and their people this is organized violence in the service of business and profit only (unless a family member has been killed for a reason that was't business).
Not so for Delaney. He returns to London with a fortune of his own already. So this is a lot more Count of Monte Cristo than organized crime (that can be left to the East India Company). After all, is the Count's era we're in. From Wiki's Count of Monte Cristo:
"The story takes place in France, Italy, and islands in the Mediterranean during the historical events of 1815–1839: the era of the Bourbon Restoration through the reign of Louis-Philippe of France. It begins just before the Hundred Days period (when Napoleon returned to power after his exile)."
I found the plot of a man who is entirely outside the rules and regulations of society, race, religion, manners, mores and presentation -- who breaks all the taboos that hold in almost all societies, such as incest (this is also the era of the infamous Byron and his half-sister scandal), to be the target of English crown, the East India Company and the US in the War of 1812 interesting, particularly with so many fine actors one enjoys watching, and even plausible.
The scripts' dialog and business are sharp and witty and entertaining
. . . Nevertheless, I do have a few criticisms.
It's dreadful, when it comes to thinking of roles for women and who they could be, these are what in period drama we keep coming up with:
1) powerless sister, victimized by both husband and half brother, and evidently crushed and ignored by her father -- worse, played by Oona Chaplin, an actor I've never liked; 2) a whore(s) OF COURSE!; 3)an actress who provides another vector of conflict, who is more of an antagonist, and yet serves to somehow soften the character of this, let's face it, dreadful man, yes, he is dreadful even though he's opposed by other dreadful men who are as dreadful and criminal in their own lives as he is / has been -- and then she falls for him; 4) dead mother.
That's it for for female characters, other than the occasional deus machina, a very young mulatta
Worst of all the actress character (her name is so forgettable) doesn't even have a maid -- and what woman with hair and outfits done as hers are, even an actress, maybe especially a successful actress who changes costumes so quickly, could even get into those dresses without a maid to dress her?
That Delaney would be given entree to a ball room dressed as he was, that's not plausible, nor is a London ball, even in Georgian London, that degenerates into a fantasy Roman orgy plausible.
The finale of the final episode -- the Stars and Stripes are raised, indicating, o, I don't know -- that the New World is a place of freedom and equality and better lives than anything corrupt old Britain, ruled by a degenerate, vindictive monarch and depraved corporation -- i.e. the East India Company? Presumably this was written and shot before the US presidential election of 2016.
End of criticisms.
. . . Despite the initial reaction in the UK and the US, Taboo found numbers enough enthusiastic viewers via BBC Player, so a second season is in the process of being ma
de.
The second season goes to the New World in some way or another. One only hopes that most of the cast survive the voyage -- Taboo's cast is superb, featuring one after another of actors who made alive roles in many of my favorite televisions series, including Steven Graham, who played Al Capone in Boardwalk Empire.
Taboo has picked up six 2018 Bafta nominations:
The Crown has picked up the most nominations at this year's Bafta TV Craft Awards, leading the way with seven nominations.
The Tom Hardy drama Taboo isn't far behind with six nominations, while

Peaky Blinders

, Planet Earth II and Black Mirror have all picked up five nominations each.
I'm also looking forward to the next and -- perhaps -- final? season of Peaky Blinders, though one does presume there will be no Alfie.