. . . . It's impossible to feel this is Christmas Eve. Somehow, all natural philosophies are contradicted when Christmas Eve and Sunday are the same day.
Such befuddlement I am feeling, despite having been doing Christmas activities non-stop for days and days.
This is also befuddling as we have no plans for either today or tomorrow, beyond a lunch today with an old friend. We are looking forward to just hanging out, cooking (again, me, with the cooking!) and listening to music and reading our giftie books.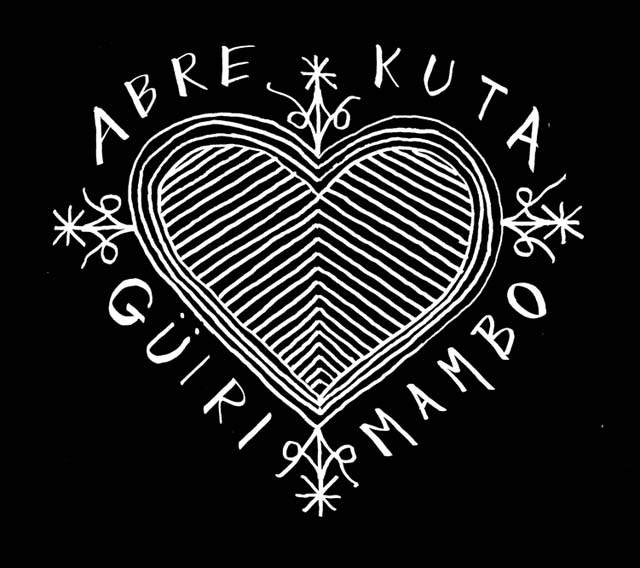 Badge - logo of the Institute of Postmambo Studies. "Open your ear and hear the word, the law the important matter."
This befuddlement is particularly so (at least for me, who tends toward introversion) as we leave for our Postmambo Studies' Central Cuba trip right after the New Year, which means spending almost all waking hours in company of many others. Such wonderful people (again!) are going to be on this deep dive into the culture and history of this region, seldom visited by non-Cubans. There's a lot of vodun in this region as well as in the east. This came via Haitians migrating to work in this region's sugar industry late in the 19th century -- in contrast to the Haitians who arrived in the orientale via French slaveowners fleeing the Haitian Revolution with their 'property.'
But then, planning the extended stay in Cuba is complicated, complex, and lengthy. At the moment thinking of clothes that are right for Cuba seems impossible as it is clothes for cold and freezing are in the forefront of my mind. No wonder befuddlement.
Our dear friend who lives across the street has either a super cold or flu (both he and el V are such he-men they can't be bothered with flu shots, o no!). So I made huge batch of chicken - tortilla - chili soup, cooked up a bunch of rice and, with some packages of Hermosa non-GMO corn tortillas, sent that over via el V. It was exactly the right thing, the thing he needed right now.
Yesterday it was all rain.
By later tonight and Christmas Day we are to get more rain, which may well turn to snow, even here.
Lots of snow north of us, of course, with these two winter storm systems converging.
Flights in and out of NYC were already being delayed yesterday.
Among what we are looking forward to this coming week is the anniversary party for Robert Farris Thompson, on the occasion of celebrating the first publication of his still unsurpassed and brilliant and essential work, Flash of the Spirit, first published in 1983. (I read it first in 1990 -- and met Bob in 1992.)
Master T -- as he has long been affectionately known at Yale -- in 2010. Several of the Cuban Postmambo travelers have taken his courses while they were at Yale. So what comes around keeps coming around -- and shows the quality of the average Postmambo traveler!
We are told that by tomorrow the temperatures will plunge into deep winter. These deep freeze is forecast (but who knows?) to last at least through our departure date to Havana. Never fear -- we have the technology to survive, lovely comfy sweaters, beautiful opera length cashmere mitts, faux fox fur boa, faux fur coat, beautiful knee high boots.
We are looking forward to reading Tolkien's translation of the splendid Christmas tale, Sir Gawain and the Green Knight aloud to each other tonight.
But, in the meantime, it is Christmas, all the time!