In the
Guardian's Long Read series, "The East India Company: The original corporate raiders," is excerpted from William Dalrymple's forthcoming book
, T
he Anarchy: How a Corporation Replaced the Mughal Empire, 1756-1803
, to be published next year.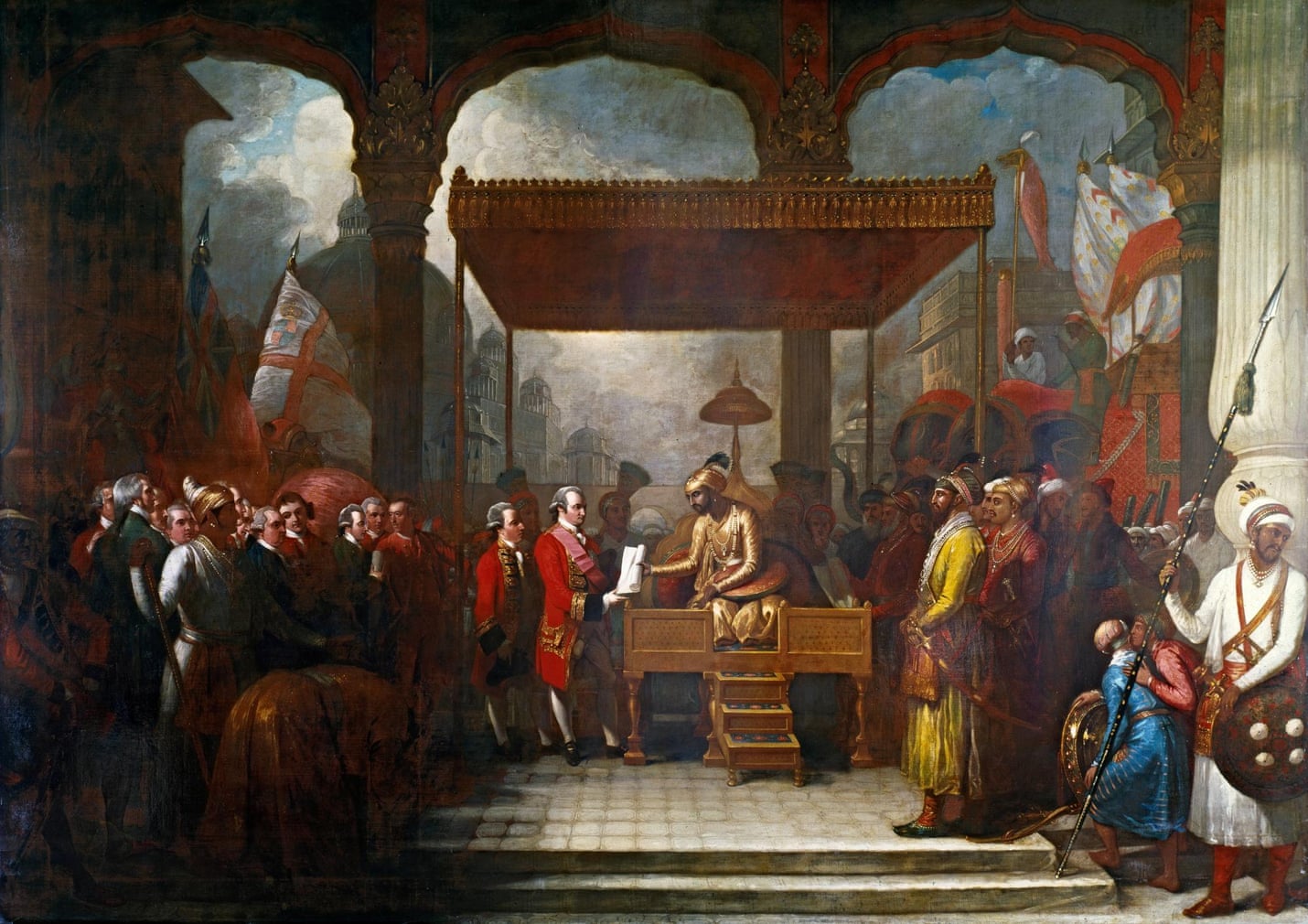 One cannot but help recalling the English government, its enthusiasm to help fill the East India Company's empty coffers from the glut of India tea on the market, gave some big pushes to the North American colonies' rebellion and secession. (For a good description of this series of unfortunate events, particularly for New England, and especially Boston - Massachusetts, see
Nick Bunker's An
Empire on the Edge
(2014).
*
The pull from Dalrymple's
The Anarchy
concludes:
The 300-year-old question of how to cope with the power and perils of large multinational corporations remains today without a clear answer: it is not clear how a nation state can adequately protect itself and its citizens from corporate excess. As the international subprime bubble and bank collapses of 2007-2009 have so recently demonstrated, just as corporations can shape the destiny of nations, they can also drag down their economies. In all, US and European banks lost more than $1tn on toxic assets from January 2007 to September 2009. What Burke feared the East India Company would do to England in 1772 actually happened to Iceland in 2008-11, when the systemic collapse of all three of the country's major privately owned commercial banks brought the country to the brink of complete bankruptcy. A powerful corporation can still overwhelm or subvert a state every bit as effectively as the East India Company did in Bengal in 1765.
Corporate influence, with its fatal mix of power, money and unaccountability, is particularly potent and dangerous in frail states where corporations are insufficiently or ineffectually regulated, and where the purchasing power of a large company can outbid or overwhelm an underfunded government. This would seem to have been the case under the Congress government that ruled India until last year. Yet as we have seen in London, media organisations can still bend under the influence of corporations such as HSBC – while Sir Malcolm Rifkind's boast about opening British embassies for the benefit of Chinese firms shows that the nexus between business and politics is as tight as it has ever been.
The East India Company no longer exists, and it has, thankfully, no exact modern equivalent. Walmart, which is the world's largest corporation in revenue terms, does not number among its assets a fleet of nuclear submarines; neither Facebook nor Shell possesses regiments of infantry. Yet the East India Company – the first great multinational corporation, and the first to run amok – was the ultimate model for many of today's joint-stock corporations. The most powerful among them do not need their own armies: they can rely on governments to protect their interests and bail them out. The East India Company remains history's most terrifying warning about the potential for the abuse of corporate power – and the insidious means by which the interests of shareholders become those of the state. Three hundred and fifteen years after its founding, its story has never been more current.
I'm
guessing
(i.e.I do
not
know!) this first serial from Dalrymple's book was run so far ahead of publication due to the
Guardian
centering for weeks the HSBC scandal. It's also not a chunk just pulled from the book; it was edited and revised,
as the pulls in various publications from
Kim Gordon's Girl in a Band: A Memoir
aren't chunks of self-enclosed text, but revised as well. First Serial excerpts often need a revision specifically for the specific publication in play, as most books aren't composed as stand-alone sections, and the length and focus for each publication is different.
----------------------------------
*
William Dalrymple and Nick Bunker are two of my most admired and favorite independent scholar-writers -- meaning they both do splendid research, but they are also good writers as writers, which makes all the difference.