Lost Girl's
season three was darker than earlier seasons. Season four was much darker than season three. There were no recreational scenes of our friends hanging out and enjoying themselves together, nor, though there was a lame attempt to have a non-arc episode with -- mermaids???? -- that didn't work at all.
Season 3 had managed a few of those before the cliff-hanger ending.
This season, Beau's character as action hero in danger presented problems as the actress, Anna Silk, was so very pregnant that one was always anxious about the baby, as well as distracted by the obviousness of angles and costumes that were intended to distract us from noticing her pregnancy.
However,
Lost Girl's
costume designers were better than ever throughout this season;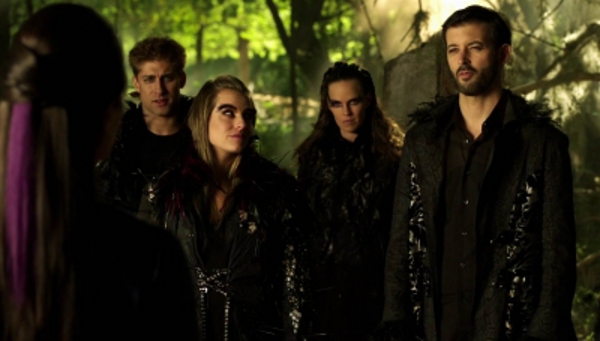 it was the writers who dropped the avian arc imagery and theme that we began with, not wardrobe. This was a particular shame as a major character whose superpower is that of sound is killed before the conclusion (no spoiler).
It seems the writers were as hesitant about the material as the directors might have been in figuring out how to make a pregnant action heroine perform that role. We don't even see Beau in the first episode, which must have thrown them off their writing stride right out the gate, and they never recovered it.
They never quite explored anything that they gave us at the start including both the Wanderer and the avian-wing creatures. We get a glimpse of what it might have been with that spectacular scene in the conclusion of the final episode with Tamsin's wings arising in full Valkyrie glory.
The obviousness of the attempts to divert the watcher from noticing the pregnancies interfered with my suspension of disbelief. I had the same experience attempting to watch
Ringer
and the last season of
Scandal --
both of which I stopped watching about half way in, though for other reasons than the pregnancy of the actresses playing the protagonists. Once Anna Silk was no longer pregnant I had trouble transitioning back to her as Beau, rather than Silk.
Nor did it seem the smartest writing in television to conclude two seasons in a row with a primary character gone missing: Beau at the end of season 3 and Kenzie at the end of season 4. A bit too Buffy-esque here. I have both admired and enjoyed the panache of the
Lost Girl's
writers light-hearted delight in snaring this and that from television and book fantasies, but by the end of season 3 the "borrowing" began to feel less blythe than desperate.
One may think season 5 will more than hit the series' sell-by date.