The wheel has come around as it does every year to Mardi Gras, Fat Tuesday in English. And a frigid Fat Tuesday it is, all down the country here.
It's not nice there either. Our friends are saying the weather's awful and this isn't going to be even a good Mardi Gras, much less a great one. But that the thing with Mardi Gras: you can depend on Mardi Gras – it will be back next year and the probabilities are next year's Mardi Gras will be good, and there's always the chance of Great!
It's hard to believe we're heading off to New Orleans very soon, but we are, just not for Mardi Gras. We'll be breaking out some of the subject matter from
The American Slave Coast: A History of the Slave-breeding Industry
, at
Metairie Country Park Day Schoo
l. The event is open to the public and without admission.
But today, here, instead we are going to the Whitney Biennial Reception --
as part of this Biennial's program, el V will be performing in Robert Ashley's Las Vidas Perfectas
-- and then to
Le Poison Rouge's benefit Mardi Gras
, for the Lower East Side Girls' Club, with Steve Buscemi as Mardi Gras King.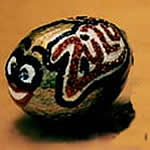 Hey -- all you NO amigos and amigas -- may you all catch a Zulu Coconut!