. . . Here we are,
in an Hampton Inn room in Illinois on a Saturday morning, listening to a draft of the music Donald Harrison is composing for the Symphony Space
Slave Coast
performance.
A friend hand-delivered the script to him at a jazz venue in NYC two nights ago. This morning one of those internet 'drop box' things for which Ned has accounts had some music in it already.
We're reading from the script, not the book, on this leg of
Slave Coast
tour -- and saying so before we begin. So this is particularly hair-raising (in a good way) for audiences interested in these matters. I'm presuming the news of this Symphony Space thing with Donald Harrison as music composer will be particularly of interest to the Chicago audience.
We're currently in family and wedding mode, which means, since we're wedding guests, not of the wedding party, we are getting some necessary r&r. The days prior, and even before leaving, were grueling, and they took their toll, even with all the incredible, positive energy – feedback we have received.
\\\\\\\\\\\\
Arose at 6 AM on Tuesday; headed out finally for the Holland Tunnel about 11 AM. (Among errands that had to be run before leaving included the copy shop to make copies of the
Slave Coast
script for Donald.)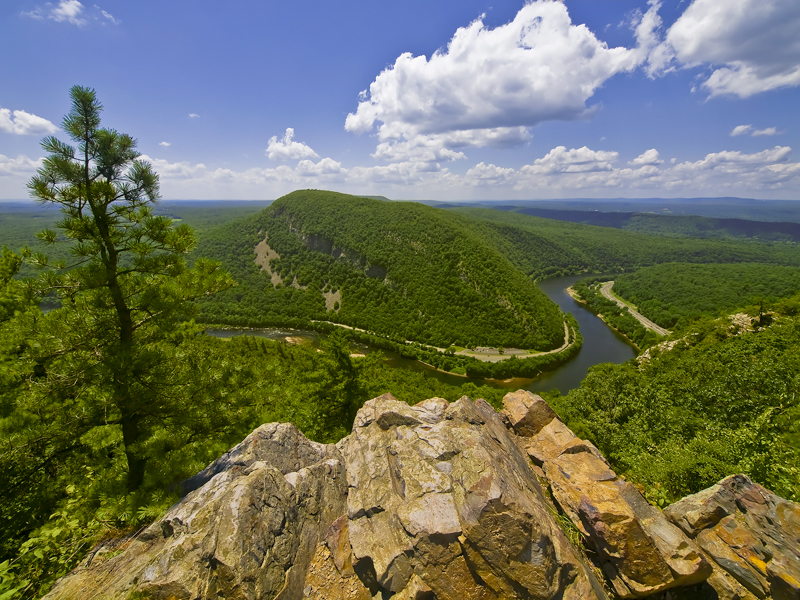 Delaware Water Gap Scenic Overlook
Once we got out of Jersey City and Chris Christie's gangland fiefdom, the drive got enjoyble. The Pennsylvania landscape of beautiful, for one thing. For another, when one knows a lot about our national history and literature, even on interstates and turnpikes just the names on the signage bring up hosts of interesting subjects to think and talk about -- the past ghosts along with us in that car. Pennsylvania – colonial history, the War of Independence, the War of the Rebellion, coal, politics, art, religion. Among other eras of U.S.history, Michigan's part of significant War of 1812 territory on the other geographical side of the war as conducted on the Chesapeake and in the South.
As well on that 13-hour drive I read aloud the entire Chattanooga campaign chapter over a couple - three hundred miles, from our current read-aloud book,
Grant
(2001) by Jean Edward Smith, the John Marshall Professor of Political Science at Marshall University (Toronto). This stuff is exciting, since the author concentrates on the armies and the military campaigns, not the people of the places that are affected and suffer. Unfortunately though Smith does quote without question from Shelby Foote.
Foote's popular history of the War of Rebellion,
The Civil War: A Narrative
, reads like a novel. This is because he is a novelist, not an historian. Thus he makes shit up, yet the publisher still catergorizes it as history. Why is this accepted?
Like the novelist Foote was, he has these historical figures say what he thinks they should say – or wants them to say. Those of us who know more about these figures know Foote is making up these words, but those who don't read deeply in primary historical sources take Foote's books as gospel truth. Thus, at the run-up to the Chattanooga campaign Grant says he doesn't care about slavery and is anti-emancipation, for instance -- while later, Lee states he's anti-slavery and pro-emancipation. These men speak these words ONLY because Foote made them speak these words. Foote should never be called an historian, and should never be used as a citation. He's a southern story-teller which is a very different thing.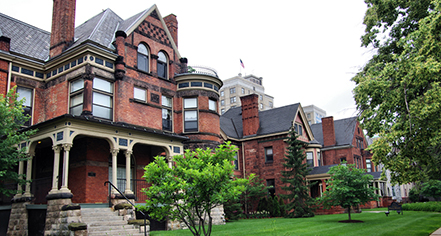 Before these mansions were built in 1891, the land was owned by a man who experimented with developing better seeds for vegetables and fruits.


At 11 PM we gratefully got into our rooms (they gave us a suite) in The Inn on Ferry Street, situated in a set of the historical Detroit (founded 1701 out of the fur trade) homes erected by Gilded Age Michigan lumber barons, land developers, shipping tycoons, etc. As an example, think of the Grand Rapids, MI, lumber millionaire in Gene Stratton Porter's novel
Freckles
(1904), and Freckles himself in
Girl of the Limberlost
, busy denuding Indiana's Limberlost Swamp of every valuable tree his crew can find, and destroying the rest of the swamp environment, trees and creatures as collateral damage – not that the novels mention this a
spect.
Lights out by 11:30. Had another 6 AM call on Wednesday to be breakfasted, showered and caffinated before arriving for the radio station call of 8:45 AM for the 9 AM start of Stephen Henderson's talk and call-in show. I
t can be heard here
.
The radio program was followed by a long tour of Detroit, past and present, by a deeply knowledgable resident, who happened to be instrumental in getting us to Detroit. He even
wrote another piece on Slave Coast for
Alternet
that went up the same day. I took lots of notes.
He concluded the tour by taking us to his and wife's home for lunch. The other lunch guests made for an excellent mix of company – male, female, black white – in about equal numbers, everyone local, and the artists, local yes, but with national and international careers. The hosts had some
Slave Coasts
available for sale for the convenience of the guests who weren't able to come to the bookstore for the evening event. These people, professional activists and organizers for years, think of everything.
These kinds of gatherings make one believe that history really matters, and not just to ones self. several of Detroit's local heads, including the director of the African American Museum. They did all this despite leaving town themselves very early the next morning. And these were only two of the wonderful people who did so much to make our Detroit visit such a success.
The call for the event at the Source, a community bookstore, was .for 6 PM. Standing room only, many atending who had heard us on Stephen's show that morning, many of whom have known each other for many years, and who have been working together to not only save Detroit's African American and less wealthy communities from the Disaster Capitalists grabbing as much real estate as they can, but since what is called locally,
the Rebellion of 1967
. Which bevels nicely into our argument, that from the perspective of African American history, the Was of Independence, the War of 1812, and particularly the War of Rebellion, whatever else they might have been, were also the great African American rebellions against the state sanctioned legal and economic systems created to keep them in a state of being 'merely' resource extraction.
After the reading, there was a long, interesting and productive q&a, which means we learned a great deal -- from people who have wisdom to impart. We talked with people and signed books until the owner shooed everyone out about 10 PM. Any place that had food that wasn't covered with (phony) cheese, mayo, bacon, etc. was closed, as is the general thing in most places. We wasted time looking for one before in desperation going into a local brew put and having burgers from which we tried to scrape off the other stuff, and salads, that could not be served with dressing and condiments on the side, and thus drowned in more fat and cholesterol, so not worth eating.
Back to the Inn and the showers -- another long drive ahead of us.