The Dutch built their Manhattan settlement, New Amsterdam, on the island's tip. In this oldest part of New York there are 38 historical markers and plaques, sculptures and statues such as the bronze commemorating Peter
Peter Stuyvesant, known as Petrus, served as the last Dutch Director-General of the colony of New Netherland from 1647 until it was ceded provisionally to the English in 1664, after which it was renamed New York.








Stuyvesant. What most visitors and residents don't realize is, besides founding New Amsterdam among their other activities in the early colonial era, the Dutch traders, among the first Africa-New World slavers and traders brought the first slaves to North America and the English colonies such as Virginia.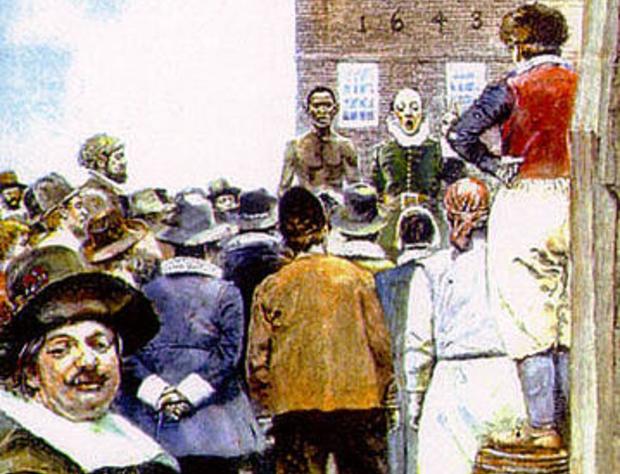 Harper's Magazine illustration of the New York City slave market in 1643.
New York's largest and longest operating slave market was located on the East River, at the corner of Pearl and Wall Streets. It began operating in the 1700's, long after the Dutch had ceded its North American colonies to the English, including the renamed for Charles II's brother, New York City. Not incidental to this story, King Charles II was part of two royal African companies of merchant adventurers, whose aim were to fill the king's coffers with profits made by capturing Africans and selling them in the new world. Wresting domination of
Catherine of Braganza, Charles II's Portuguese, Catholic queen, controversial with her subjects and still controversial in New York City today, due to her connection with the African slave trade.
the African slave trade from the Portuguese and Dutch was a large motivation for Charles II's wars with the Dutch and his marriage to
Portugal's royal daughter, Catherine of Braganza
.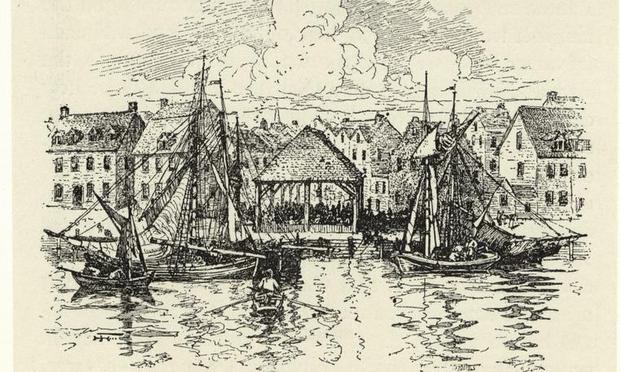 An historical drawing of the spot where New York City's 18th century slave market was located.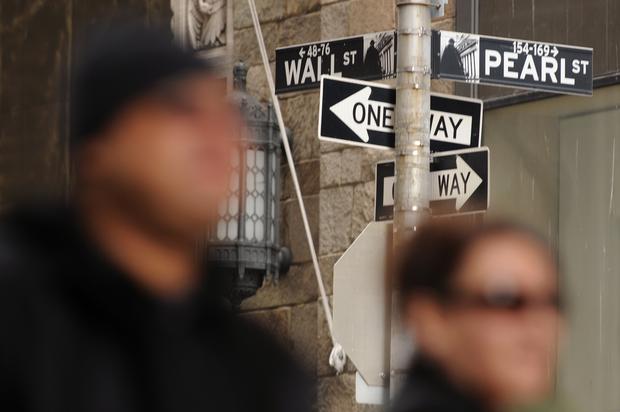 New York City's slave market existed at the corner of Wall and Pearl Streets from 1711 to 1762. "Slavery was introduced to Manhattan in 1626." The date is important because it's less than two years after Dutch settlers first arrived at the tip of what is today known as Manhattan. That means white Europeans and enslaved Africans arrived in New York — then called New Amsterdam — at essentially the same time.
To the many downtown historical markers, this summer the City is adding a marker that acknowledges the slave market. At this time the plan is to unveil the marker on Juneteenth (June 19), also known as Freedom Day, which dates to the emancipation of African-American slaves in Texas and throughout the Confederate South. "The marker will be freestanding and located in a pocket park on the northeast corner of Wall and Water Streets, a block from the historic location of the slave market."
Chris Cobb, an independent scholar who contributed research to the historical marker, testified at a City Council hearing last year about the legacy of slavery in New York. Cobb pointed out that the city directly benefited from the business. "It was a city-run slave market because they wanted to be able to tax every person who was bought and sold there," he said. "And the city hired slaves to do work like building roads."
One of the many reasons to have a public reminder of this slave market is because
New York and other northern cities accrued vast wealth from slave labor and profited for centuries from dealings in the slave trade. Africans who passed through the Wall Street slave market contributed to the prosperity of some very famous companies, some of which are still around: Aetna, New York Life and JPMorgan Chase, to name a few. Various units of these and other financial companies bankrolled southern plantations, insured slaves as property, and used slaves as collateral for loans.
Rioters subjected black people, including children in an orphanage to the most brutal violence: torture, hanging, and burning for three days in July, 1863. Lincoln had to sent Union troops to the city to quell the violence.
This also explains why New York City, as opposed to the state at large, was such a hotbed of copperhead and other anti-abolitionist and emancipation action, including riots in which free African Americans were killed in large numbers, and why it hosted so many secessionist spies and plotters during the Civil War.
Acknowledging how thoroughly slavery and the slave trade are embedded in all our national history in all parts of the nation helps explain too, the murder 150 years ago today, of President Lincoln by Booth, only 5 days after Lee surrendered to General Grant at Appomattox.
Lincoln's murder was a true, national, tragedy.