Vikings' "
To the Gates!" may be the best, and certainly among the very best, prolonged battle scenes put up on screen.
*
It's certainly the best ever made-for-television battle.
Even knowing some of the historical background on which the last episodes of season three are drawing there were moments when it was impossible to not to think:
"See Paris -- and Die."
Those were deeply disturbing moments.
Now Ragnar knows the weak places and strong places of Paris's defenses. He knows how the Francia soldiers fight, and their variety of weapons. He's got a sense of the commander who directs the defense. He also knows how much religious faith matters in the battles. However, Ragnar's lost . . . how many men?
O Lagertha! At least you promised to kill him . . . sometime . . . .
A very great deal happens in this episode beyond the hewing, hacking, bleeding, burning, drowning and dying, but I will not speak of them for fear of spoiling.
**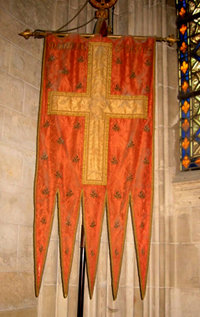 However, this can't be a spoiler, or much of one anyway: The writer(s) made magnificent use of the
Oriflamme
, as it played such a big role in some of the wars and battles of the English-Normans and France at times during the Plantagenet reign. Which means descendants of the Norse will still be dealing with the banner of St. Denys in the 11th, 12th and 13th centuries. Not the same banner-textile, obviously, after hundreds of years, but there's always an Oriflamme since about the 6th century. In terms purely of the episode the Oriflamme's presence underscored how much this season has been about conflicting religions and how these conflicts inevitably play out by fire and sword.
The last two episodes, judging by this one, will be killers.
------------------------
*
Among these very best battle scenes this watcher would include more than one battle and siege from the 1961 film,
El Cid
(this film also has the best castles). Recall too, there was no blue / green screen or CGI then. Every once in a while, in the days before digitization and dvds and streaming and all the other ways we revel in our watching now, El Cid would show up in a local art theater. This film was done in the days of cinemascope and alas the days of theaters with one of those screens made for that were long gone before I got to learn of
El Cid
. But I have watched in theaters like the Film Forum several times.
**
One of these involved the Francia princess, Gisla, daughter of Charles the Bald (who is not historically an emperor though they call him that in
Vikings
) whom I always wish to call by her historic name, Judith. But there's already Judith in the series. She's not used in her historical position either, since by the historical record, Judith was Æthelwulf's second wife, and she had no children by Æthelwulf', or anyone else . However, when it comes to the liberties Vikings takes with history, this doesn't bother me. First because Ragnar himself probably didn't exist outside the sagas, but rather was a composite figure. Which is why the timeslips don't generally bother me either. Sagas didn't necessarily progress in any careful linear narrative line in which every point between getting between A and G is described much less even mentioned.