. . . . Travelers from the November 2016 Postmambo
Sugar and Tobacco Counterpoint music
,
culture, spirituality, people and history seminar had a reunion here earlier this week.
So we all got together -- yes, myself too, though I wasn't on that expedition (or on the March 2016 one either). That's the thing about going to Cuba. The experience doesn't evaporate upon returning home, Instead, the experience continues to perculate through mind and soul and blood, which is why el V always says, "Don't say 'my trip to Cuba.' Say my
first
trip to Cuba.' Because you will go back."
In the meantime our intrepid Travelers from last month's Postmambo Oriente seminar throughout eastern Cuba -- Haiti, Independence, Revolution, music, culture, spirituality, people and history -- have been emerging from jetlag and exhaustion -- and the need to have returned to work immediately. They are posting photos, sharing music and observations. One of them is even here, having her flight delayed by yesterday's wind and rain storm only . . . five hours . . . .
This morning I discovered we have eleven, yes, 11, bottles of Cuban rum here. I found 5 bottles of Santiago rum I didn't know we had, or had forgotten we had. We thought we had only 2 bottles left of the previous rum brought home. When did these five bottles of Santiago rum come in here? Good thing it's here because due to tourist consumption, or the drought in Oriente these last 12 months, Santiago rum, which we all find to be superior to the vaunted Havana Club branded product, was not available in the Holguín duty free.
HOG Airport
HOG airport's departure lounge's duty free cigars and liquor shop. Holguin's departure lounge is attractive and pleasant, and includes place to get decent food, coffee and water. This is not how I think of Jose Martí's departure lounge. But then, there's a lot more foreign and Cuban traffic in and out of Jose Martí.
This despite the HOG airport possessing an enormous liquor tienda and that the Santiago rum is distilled in that region (presumably?). Nor was there any in the Jose Martí duty free either, when el V flew back from there earlier his week.
So Himself did bring back 4 bottles of Havana Club añejo -- which is much better, though still not as good as Santiago añejo -- in our opinions of course.
What will we do with all this rum? Probably our friends are getting tired of it by now! Of course, judging by the weather here, this isn't the season for rum drinks yet, which are so hospitable to refreshing ingredients such as citrus, ice, coconut cream.
I had the very best pina colada one could have ever at el Poeta, a beautiful restaurant in Baracoa, with
décimas
written on the walls.
This map shows how close to Oriente de Cuba (eastern Cuba) is Haiti, thus why those fleeing the Revoloution and wars in San Domingue came here, distinctively affecting the culture, language, politics and music of this part of Cuba.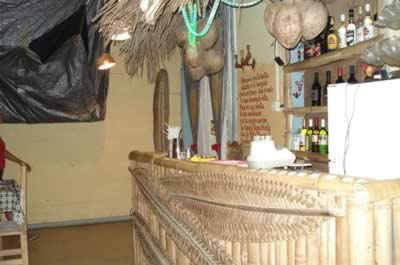 The very bar where my gorgeous pina coload was mixed up with all local, fresh ingredients! See the decima on the wall behind the bar.