. . . . A perfect April day,
seasonal in the way we used to be used to: not cold, but a light jacket is nice. Intermittent light showers fall from the thin clouds. The sun is palpable behind that almost sheer silvery canopy.
The patchy fog has wiped out the new Towers on the 9/11 site. It feels almost 16 years ago, when things were still "normal."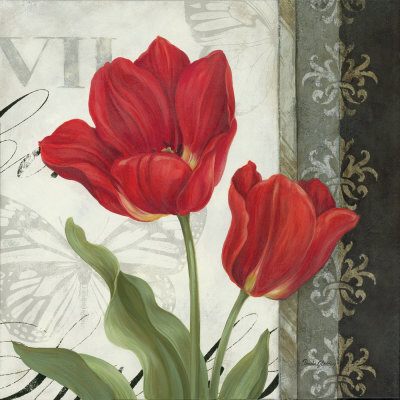 Everywhere around are green and flaming red.
The leaves are bursting. For some reason this is the weekend all the largest tulips, for some reason all red, have exploded.
Then I run into one, two, and yet another neighborhood friend, while going about my Saturday street routine. We stop and chat cheerfully, happy for April Showers.
This kind of light is good for photography. But grocery shopping and carrying an umbrella are bad for photography!
More mundanely, I was awake at 6. But Himself was planning to sleep as late as he could because of tonight's concert. The music is difficult and he wants to be as well-rested as possible. I didn't even turn on my computer. I sat in the kitchen and read the Mantel novel until he really waked up, about 10:30. Then I made him a big breakfast (don't do that often).
He'll be heading out to Brooklyn soon for the rest of the day. Won't be back til probably midnight? I'm not going because I don't love the kind of music that's being presented, and because once Himself left I will be able to get some work in on
Far From Anywhere
.