. . . . So many books arrived here for Christmas.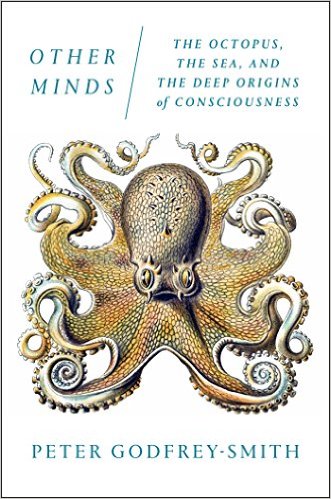 Among them is this one, from the Distinguished Professor of Philosophy at the City University of New York Graduate Center, Peter Godfrey-Smith's
Other Minds:The Octopus, the Sea, and the Deep Origins of Consciousne
ss.
He's given a talk at the Grad Ctr that I attended (not about this book), and I've heard him interviewed (for this book) on Lenny Lopate. The subject is fascinating to many people, including moi.
The other books that arrived here at Christmas are histories, including another Grad Center. colleague's work, David Waldstreicher's, done in tandem with another historian of John Quincy Adams, Matthew Mason --
John Quincy Adams and the Politics of Slavery -- Selections From the Diary
.
David's been editing, in two volumes, Adams's Diary for the Library of America series. They'll be available in June of 2017.
"The Politics of Slavery" are the selections from the vast Diary of Adams that he began when 12 years old, that trace in his own words, through the workings of his own mind, the evolution of his anti-slavery stance -- which wasn't present from the beginning.
Themes include Cuba, the Mexican-American War and others.
. . . . .O yah, I also received a set of crystal wine glasses,
reproductions of the sorts commonly found on North American well-set tables in the 18th century, as in the Fraunces Tavern private rooms. Not goblets with those refined long stems, but short solid bases, and ringed in gold. (Last year I received long stemmed champagne flutes. There seems to be a theme . . . .)
. . . .Other things include a blu-ray player

and the two slip-cased cartons of Scorsese's restored World Cinema - Criterian Polish classic film

s

-- 21 films in all, I think. These include more of the films adapted from Sienkiewicz's historical novels, including

The Black Cross

a/k/a

The Teutonic Knights

-- from wiki:
Quote:
In the 15th century the Polish-Lithuanian Commonwealth is facing a hard struggle against the neighboring Teutonic Order.Frequent clashes between the two powers finally culminate in 1410 with the Battle of Grunwald.
15,000 extras were employed to create the battle scenes.[2] The film attracted to cinema masses of viewers and remains one of the most attended films in Polish history: it sold 2 million tickets within several months,[3] 14 million after four years and as of 1987, it had some 32,315,695 admissions. It was also exported to forty-six foreign countries,[4] and sold 29.6 million tickets in the Soviet Union[5] and 2,650,700 in the Czechoslovak Socialist Republic.[6] It was a Polish submission to the 33rd Academy Awards.
On this YouTube video from January 2014, Martin Scorsese introduces Masterpieces of Polish Film.