It was an autumnal trees, mountain and water spectacular panorama yesterday, driving from Manhattan to State College -- Penn State University.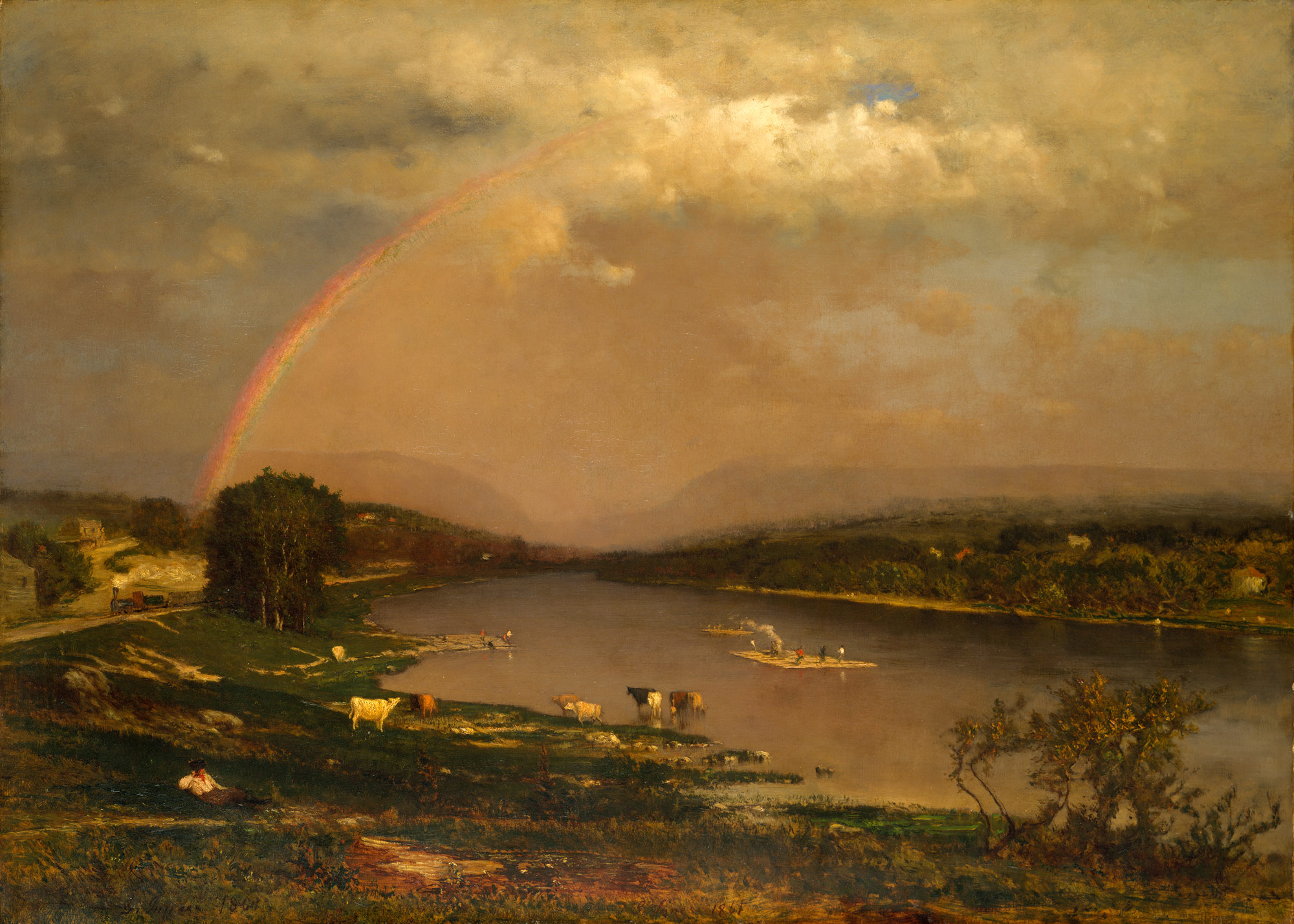 Delaware Water Gap by George Innes 1861; oil on canvas
Delaware Water Gap
. Chesa
peake Bay Watershed
.
Susquannah River
The Susquehanna River. Pocono Mountain. Appalachians. Hills, mountains, mountain ridges rounded, not jagged, cragged or pointy. Covered in trees exploding with autumn. Valleys of corn farms, horses and cattle, snugging in for the coming winter.
Smooth and easy, low traffic. We stopped at a scenic overlook to share a sandwich and a rice pudding. Urinated behind a huge tree, upon the most ruby and gold glowing surface ever of fallen leaves. It was like driving through Rivendale, gold, orange, ruby leaves falling like snow upon road-killed deer, highways and rivers alike.
Received with such hospitality and authentic welcome. Should have been in bed by 11 PM but the conversation was too brilliant for any of us to leave.
Not to mention the food. This is the Chesapeake Bay Watershed, and the shell fish are divine.
Breakfasted, washed, dressed, out soon for an informal visit to CM's class, a visit to the library the archives of which contain artifacts as well as papers, that include many from the the state's slave trading days. Then it's our official gig.
Tonight is going to be a dinner party, food provided by a member from "northern Alabama who is a fabulous cook."
No wonder the descendants of
William Penn
are still agitating to get the family's colonial proprietorship status re-instated . . . . What a fascinating state, as well as filled with great eating and beautiful scenery and splendid architecture. I wish I could spend some extended time here. I feel that way about everywhere up and down this Atlantic Coast and east of the Mississippi.
Among the things I love about these locations is that all four seasons manifest themselves completely through the cycle, and include every traditional poet nuance that human beings have come to associate with the four seasons of the northern hemisphere. One looks at these mountains in autumn and it takes no squinting at all to see them in winter, spring and summer. Of course, the winters here are harsh, as harsh as midwestern ones.
What a beautiful nation we have. Even England and the UK have nothing on us in either fat farmland buccalia or enthralling place names.
Why are we destroying it as fast as possible?