Upon arising this AM the temperature was 8º. This is why for the last two days I've been watching the second season (2013) of the lighthearted Brit policier series,
Death in Paradise.
The action takes place on Saint Marie, a fictional island speck described as "situated in the Eastern Caribbean Sea and one-tenth the size of its north-west neighbor Guadeloupe." Having stayed on Guadeloupe, I can honestly say this means Saint Marie is so tiny it's hard to believe it can support any population at all, much less survive a hurricane. Nevertheless the island is densely populated with tourist resorts, markets, rain forests, sugar plantations, mountains, a volcano, about 100 beaches and a local population equally fluent in English, French and a variety of patois and religions from the Roman Church to Vodún.
Considering the main character, DI Richard Poole, played by comedian, Ben Miller, is a coerced transplant from the London police force, one assumes that at least through the last century or so of its existence Saint Marie, like St. Lucia, has been a British possession.
However! the lingering panoramic scenes of beaches and sky at all different times of day and night are luscious -- it's porn for we winter-frozen northern hemispherites.
*
The characters tend to be as gorgeous as the scenery, particularly the French-Portuguese actress, Sara Martins, who plays Detective Sergeant
Photos of DS Brodey because I adore her. She makes this series. So does her mother. Catherine Bordey, played by Élizabeth Bourgine. In this still from season 2 Camille is interviewing a possible witness about the murder victim. There's always a murder.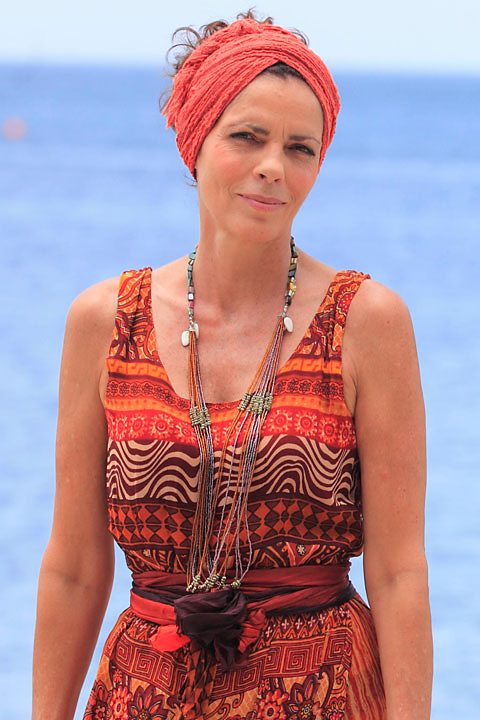 Camille's mother, Catherine. From France, she married a Saint Marie native, who subsequent to Camille's birth disappeared. She owns the de rigueur bar-restaurant in Honoré that any self-respecting Caribbean policier must have as the center of information.
Camille Bordey. Part of the fun is seeing which color combination of cut-offs, leggings and matching tops she will wear in each episode: coral, mango, aquamarine, turquoise, lemon. There's a succession of male extras and minor characters who are equally easy on the eyes as DS Bordey.
Among all these lovely people, the aged-out, poor man's Hugh Grant-mannerism afflicted DI Poole is so out of place. Not only is he socially maladjusted -- the
Harry the lizard, who lived in the beach shack before DI Poole, and presumably will still be inhabiting it when Poole is gone . . . .
recurring character with whom he's most comfortable is a lizard who lives in his beach "shack" -- Poole insists on wearing a BLACK suit and tie and shoes at all times in all circumstances -- even though he's been on the island now for over a year. (When he arrived in season 1, this was to be only a temporary assignment.) That's over the top, even for a Brit, in this day and age where the temperature and humidity are intense. Of course, despite these traits that go far beyond idiosyncrasy, the luscious Bordey falls for him so fast that nobody's fooled by her initial antagonism. As a viewer this is so implausible that it nearly tips over into being (unintentionally) entertaining. Well, not very much really, but nevermind.
Death in Paradise
is pretty, warm, charming and provides the pure escape that Caribbean resort bubbles that protect the tourist from the real island always promise, and for only pennies instead of thousands of dollars.
The soundtrack is mostly reggae and ska. The location shots are mostly Guadeloupe.
DI Poole is no longer on Saint Marie in seasons 3 and 4.
In Season 3 Kris Marshall is the new guy -- who played that unbearably stupid character in
Love Actually
(2003) who
goes to America and gets shagged without charge by numerous Milwaukee prostitutes -- one of whom is Betty Draper, i.e. played by January Jones.
Season 3 ran in the UK in 2014. Season 4 is either currently showing or has just concluded. I'll probably watch them in the next two winters, just as I watched season one last winter, and season two in this one.
-------------------------------------
*
That was the appeal of
Glades
too -- winter escape watching.