Ben Hur
(2010) CBC; ABC in U.S. It has an excellent cast, including Kris Holden-Reid (
The Tudors
,
Lost Girl
), Hugh Bonneville (
Downton Abbey's
paterfamilias), and Emily VanCamp (
Revenge
) in supporting roles, and Joseph Reid as Judah Ben-Hur (Klaus of
The Vampire Diaries
, and now,
The Originals
).
Lew Wallac
e's novel,
Ben-Hur: A Tale of the Christ,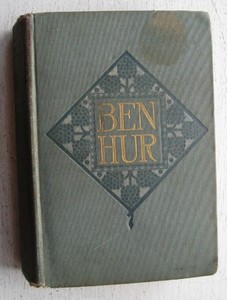 has been adapted several times for movies, for the stage (the latest was in London back in 2009) and now for television. I know the novel very well. It was in my maternal grandmother's library. I read it for the first time when I was about 11 or 12, then re-read it more times than I can recall. That same copy is now on the shelves in our apartment. I cannot say whether this was a good made-for-television movie or not, because I'm always happy to watch a
Ben-Hur
. However, this adaptation did no justice to the great chariot race, the set-piece of the novel. Also Rome was excised from this made-for-television movie, no doubt due to budgetary reasons, so the race is held in Jerusalem, which, as all the characters know, is no Rome. Though they don't make up for this, the camels are first class.
In Wallace's novel, Iras is daughter of Balthasar, one of the Three Magi who find the infant Jesus in the novel's first section. She becomes lover to Messala. She had wanted Ben-Hur, but his purity of body and religion resisted her temptation. In this television adaptation, for reasons only the writers and showrunners know, Iras didn't exactly get left out, but she got name-changed to Athene, her position as a Magi's's daughter transformed into a slave pr*stitute (wh*r*s! we must have wh*r*s, if only so we can shout the word Wh&*r*! at a woman!)
*
, given to anyone Messala's father wishes. Athene shares nothing with Wallace's Iras. Highly educated, Iras had her father's skills of astronomy, well as the esoteric knowledge of old Egypt, as a 'daughter' of Isis. She was a woman of agency and personality, the only one in the novel – and always a mystery, unsolved by anyone. Of course she commits suicide, for reasons no one really knows, though it is hinted she does so in protest of the old world's worship of goddesses moving to the worship of Christ.
Another excision of the Ben-Hur adaptations is almost in entirety the parallel
Tale of the Christ.
In this parallel tale Ben-Hur converts to Jesus and follows him personally for three years. The adaptations conclude with Christ healing the Hur women of leprosy, the Crucifixion and the happiness of Ben-Hur's reunion with his family and love interest, Esther. However, that is not the end of the novel, which is they all move from Jerusalem to Rome to establish one of the first underground Christian churches.
It occurs to me Wallace's novel has been influenced by Dumas's
The Count of Monte Cristo
(1844), but is filtered through the Usian 19th C sensibility – not to mention that Wallace had led men and lost them on the Civil War battlefields – and lost the battle too.
See titles:
Tale of the Christ
, and
Monte Cristo
. I could well be wrong about the
Monte Cristo
influence, that both
Ben-Hur
and
Monte Cristo
are merely following the classic trajectory of the Hero: he falls, then he rises in rebirth – i.e. changes his identity, is inconceivably wealthy, humiliates those who betrayed him and gets the girl. Though in
Cristo
, Dumas being French, not an American, Edmond Dantès' financée, Mercédès, has been married to one of the men who executed Dantès' downfall and given him a son. Though innocent in all these matters, in fiction Mercédès's marriage and motherhood would make her unworthy of a union with Dantès (instead he marries a much younger, pure virgin ex-slave girl at the end). Plus, the scope and intricacies of Dantès's vengeance are more akin to the Revenge Plays, so popular in the time of Queen Elizabeth and King James I, than is Ben-Hur's, who is fixated solely on the destruction of Messala, the foster-brother friend who betrayed him and his family.
No matter how familiar one may be with other
Ben-Hurs
, this cast, the costuming, the location and sets, make this two + hours of television viewing an entertaining experience.
-------

* Had to edit this section because judging by the unprecedented number of hits this entry has received, it must be that word that is bringing them. How disappointing this must be for them, to come looking for that and finding instead Lew Wallace, the Civil War, A Tale of the Christ and The Count of Monte Cristo!