Marker stones, called Crown stones, carved with the Baltimore coat of arms on side, and the Penn coat of arms on the other, were set up every 500 feet to mark the dividing line. This project kept surveyers rich for a long time. I got some photos of a Crown stone, but because of the age, and all the vegetation around it, including poison ivy, not much can be seen from it.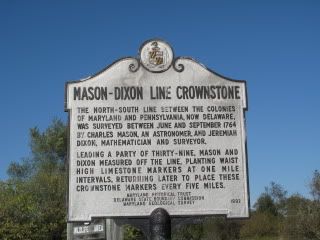 Centerville Community of Free Blacks: With more contemporary siding now, and it had been linked to the electrcity grid, the house is deserted. C O'D says that this was typical design for these houses in Kent County's free black communities, both before and after the Civil War. The family slept in the loft right up under the roof. One room, plus what as used as a kitchen under the lower part.
You can see more of these in the Kent County Historical Museum publication,
Historic Houses of Kent County: An Architectural history
, 1642-1860 (1996).
Upper Chester River: Clear, clean, a wonderful place to canoe or kyack. Also a good place for fisherman. I took this photo from the spot where anglers exercise their skills.
So, that's a bit from my Delmarva Sunday Excursion yesterday. couldn't have had a nicer day for this. I couldn't have been provided with better guidance. I also got taken into all these rooms that the general public doesn't get to enter. This is the nicest Sunday afternoon I've had in years. My only regret is that I didn't take more photos. But I was so busy listening and looking. There was much more to the day, that was seen and experienced, than can be blogged.
Maybe the best part were the rural drives to Odessa and then the one back to Chestertown. There are a variety of rural landscapes in just this small area. Horses! Bald Eagles (there's also a wildlife reserve within this little area). I had such a good time.
I watched the end of season one of
A Good Wife
. V made me dinner -- well warmed up leftovers. Then we went to make fun of the ducks, er widgeon, and have a good night glass of wine at the Fish Whistle. I retired to bed with computer to finish transcribing my notes on William Claiborn.
Odessa underlines yet again, that those who could own slaves and have indentured servants, tended to stay wealthy, influential and powerful generation after generation, as they intermarried. These people still help run Delaware with the Duponts.