. . . . Death in Paradise, season 6 ( 2017 - BBC) became available streaming from Neflix this weekend -- during which, I then, watched all eight episodes over Saturday and Sunday.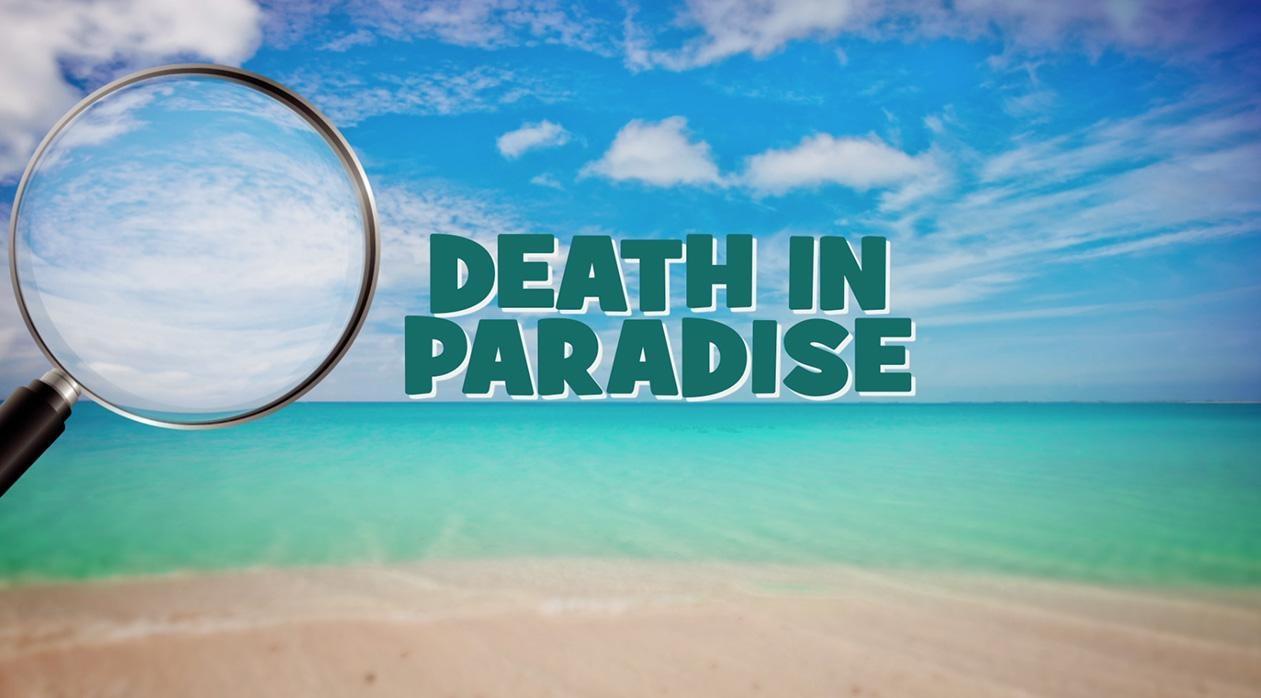 Hey, by late Saturday night it was raining and snowing here, which continued into Sunday. When that weather moved on, it left behind some nasty cold temperatures, which continue today. So new episodes of
Death in Paradise
, filled with sun and heat, lush flowers, curved beaches of golden sand lapped by blue Caribbean waters, were just the ticket out of gloomy reality.
Harry the Lizzard, a most important character in Death in Paradise!
. . . . . Season 6 is different from the previous seasons in some subtle but important ways.

Without any spoilers, it felt a tad darker than the previous seasons. Oddly, one of the reasons for this, for me, is that, unlike in previous seasons, one can see the characters sweating -- sometimes one can even see damp spots on shirts.
Having spent significant time on Guadalupe where the series is shot, I always wondered why on the show, nobody sweated, even after running or other prolonged exertion, or even perspired -- that is one humid island. There you know mon, in August, the thinnest of Indian cotton, sleeved, shirts were too much to wear. No sleeves on Guadalupe!
In various media pieces about the series last year, in preparation for season 6, Kris Marshall, the actor who plays principal character, Inspector Humphrey Goodman, went on at length about the deep discomfort of shooting in the heat and humidity.
Detective Sergeant Florence Cassell, investigating a murder at a literary festival. This was a really fine episode. It was about time the writers of Death in Paradise recognized the Caribbean produces significant literature after all the episodes featuring chefs, resorts, sailing, volcanoes, etc. Anyway, who couldn't love a series with such a creature as Florence in most scenes, hmmmmm? :)
The other primary reason it seemed a little darker was that Humphrey seemed on edge, tense, and even thinner than in his previous seasons. These media pieces reveal a reason for this too -- that is, if he really was playing edgier and thinner, and it isn't just my eyes making this up. But tension and sweating really go together, you know mon?
However, in these media pieces, Marshall mentioned another reason why he may have looked more tired and slim than previously, but I won't mention it here, for fear of spoiling those who haven't already seen last year's season 6 ( this year's season 7 aired back on the BBC January-February).
In any case, I enjoyed season 6 even more than season 5, and this bit of darker tone is probably responsible. It is still as sunny and brilliantly colorful, and as bright as before though, the real reasons we happily return to this series. It is like Midsomer Murders in that way, as well as in others (which I won't say now because of spoiling).
Jason Hughes as Ben Jones, a favorite character from Midsomer Murders.
One of Death In Paradise's 6th season episodes even includes Jason Hughes, who played detective sergeant Ben Jones to Inspector Barnaby in Midsomer Murders.