Elizabeth And Her German Garden was first published in 1898. It was Elizabeth Von Arnim's (1866-1941) first book, but like the husband she had when making this garden, it was as far from being her only book as the "Man of Wrath," as he's referred to in the book, would be her only husband.

Elizabeth and Her German Garden was published anonymously.
Knowing only this factoid about the author the reader will know she's in for something unusual and quirky -- even satirical. Satirical indeed is Elizabeth And Her German Garden, in the mode as other books, arch in tone and complacently upper class, as Max Beerbohm's
Zuleika Dobson (1911), Stella Gibbons's literary parody, Cold Comfort Farm (1932) and Nancy Mitford's comedies of manners.
Elizabeth And Her German Garden was immensely popular, either in spite of or because it addressed so many of the matters the early first wave feminists discussed, but did so within a frame of gardening -- a typical, acceptable female occupation in England -- as a radical female act in Prussian Germany, going against appropriate class and gender avocation.
As were many of these early, outspoken female radicals Elizabeth was an aristocrat. For that matter she was an aristo times two. Mary Annette Beauchamp was born into a wealthy English family while they were living their Australian holiday home. She married first the German Count Henning August von Arnim-Schlagenthin. As might be suspected from the author referring to him as the Man of Wrath, this marriage wasn't particularly successful, despite five children, among whose tutors were E.M. Forster and Hugh Walpole. By good fortune, Arnim-Schlagenthin died in 1910, leaving her free to marry John Francis Stanley Russell, 2nd Earl Russell, elder brother of Bertrand Russell. This marriage was also unsuccessful. She left him, but as they never divorced she had affairs -- she was one of H.G. Wells's mistresses -- rather than husbands. She lived many places during the course of her colorful life. Having fled the bombs and war, she died of wartime influenza in Charleston, South Carolina. She was cremated in Maryland; her ashes were brought back to England in 1947.
From wiki:
Arnim's husband had increasing debts and was eventually sent to prison for fraud. This was when she created her pen name "Elizabeth" and launched her career as a writer by publishing her semi-autobiographical, brooding, yet satirical

Elizabeth and her German Garden

(1898). Detailing her struggles both to create a garden on the estate and her attempts to integrate into German high-class

Junker

society, it was such a success that it was reprinted twenty times in its first year.

[7]

A bitter-sweet memoir and companion to it was

The Solitary Summer

(1899). Other works, such as the

The Benefactress

(1902),

Vera

(1921) and

Love

(1925), were also semi-autobiographical. Other titles dealing with protest against domineering Junkerdom and witty observations of life in provincial Germany were to follow, including

The Princess Priscilla's Fortnight

(1905) and

Fraulein Schmidt and Mr Anstruther

(1907). She would sign her twenty or so books, after the first, initially as "by the author of

Elizabeth and Her German Garden

" and later simply "By Elizabeth".
Although she never wrote a traditional autobiography, 'All the Dogs of My Life', her 1936 account of her love for her pets, contains many glimpses of the glittering social circle of which she was part.
I enjoyed listening to Elizabeth And Her German Garden very much. However, her attitude to the "underclasses" is disturbing,. The narrator always refers to them as a matter of course as animals and children -- while in that typical feminist manner of the privileged class, she takes enormous umbrage at the males of the ruling class to which she belongs, who refer to her and women in general as "animals, children and idiots." In Germany the classification of those who are not allowed to attend political meetings, vote or own property were "animals, children and idiots."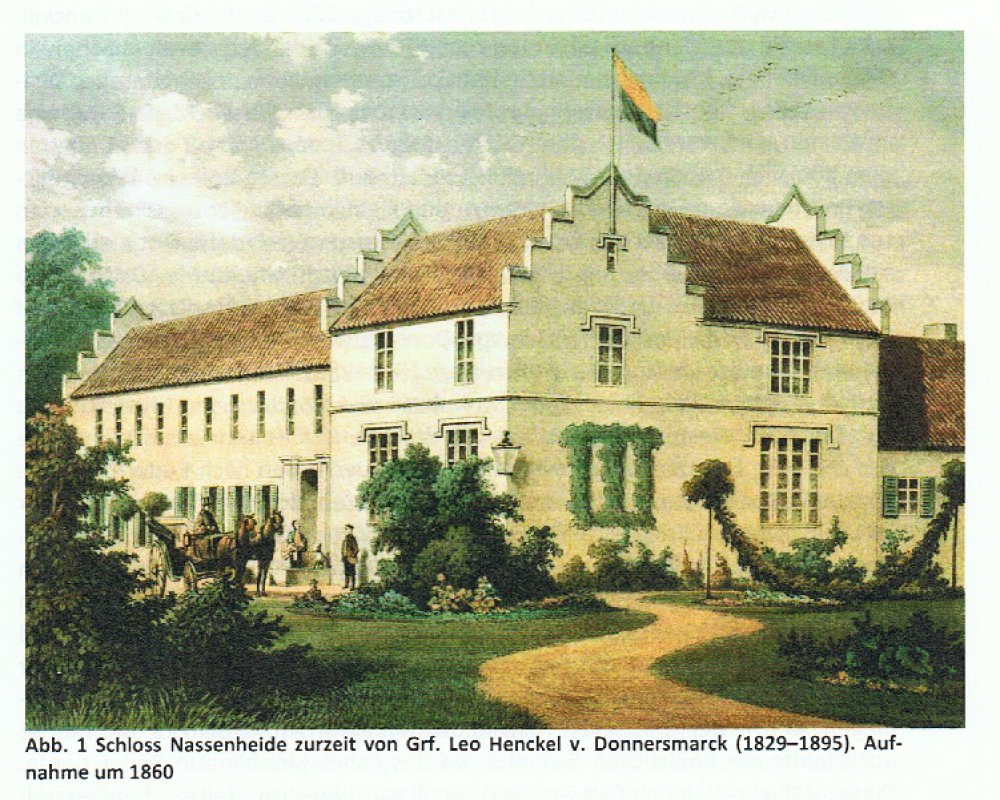 She rather likes hat in Germany, where she is making a garden on her husband's
Nassenheide, Pomerania estate
with migrant labor, that masters and mistresses may by law employ corporal punishment upon their barely paid employees -- many of whom in Prussia come from Russia and Poland.
In her favor, the narrator of Elizabeth And Her German Garden does feel keenly that the women among these laborers are unfairly treated and argues with the Man of Wrath about it. These women are beaten as a matter of course by their husbands, paid less than the men for doing the same work, perform yet more work in their family, and as well, do it while pregnant, and immediately after giving birth. The Man of Wrath complacently informs her that is why women are inferior beings, because they are weaker than men and can be beaten, because they get pregnant and have to take care of babies.
Perhaps more than any other impression this reader-listener has taken away from Elizabeth And Her German Garden is how much again things in the so-called enlightened nations have returned in terms of wealth, class and labor and gender, particularly for migrant labor, to what they were before World War I.
Many of her works, including Enchanted April, have been adapted for the stage and films. Virago has reprinted them.
Wiki further informs that many of her works are available online:
Works by Elizabeth Von Arnim at Project Gutenberg

Works by or about Elizabeth von Arnim at Internet Archive

Works by or about Mary Annette Beauchamp at Internet Archive

Works by Elizabeth von Arnim at LibriVox (public domain audiobooks)