Surely readers who enjoy mysteries, policiers, and other fiction within thus general genre, have long known of
Peter Lovesey
. I'm the outlier, who didn't until his latest installment in the Peter Diamond series was published this fall. I
read a review of
The Stone Wife
,it sounded the kind of mystery I'd enjoy because the reviewer mentioned that Lovesey stuffs these novels with literary allusions,
and the location is Somerset, Avon and the city of Bath.
The Stone Wife's
nests of plotting are built around Chaucer, and his best-known character, the Wife of Bath.
Diamond is old-fashioned, far from the haunted, past-obsessed, old rock/jazz/classic music fan, alcoholic, poetry writer, aristo that have become the formulaic patterns of homicide investigators -- not to mention the number of Regency aristos uncovering their peers' secret evils, or the troops of troubled honorable Victorian investigators uncovering the dastardly deeds of the Empire's upper classes.
*
Lovesey has his own Victorian investigator Sergeant Cribb, btw.
"Gum shoe," is how corpulent, rumpled Diamond thinks of himself. I think of him as "bull dog." Perhaps even the classic English bull dog, as he's so retro. He gets an idea in his head about who did it and he won't let go until he gets a confession that indeed that's who done it. This gets him in trouble.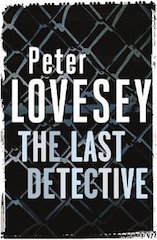 There are twelve Peter Diamond titles between
The Stone Wife
(2014), and the first Diamond,
The Last Detective
(1991). It's my current work-out book, so I hear installments one day of
The Last Detective
, and then the next night I read the next pages of
The Stone Wife.
A great deal has happened to the world, to Bath, to Diamond during the course of the intervening twelve novels. That I don't know the details isn't detracting from my enjoyment in either novel.
The Last Detective
is set in the 1980's. Jane Austen is a huge plot device. Bath is no longer to be referred to as the Town of Bath, but the City of Bath. Computer database access, DNA testing as part of any forensics investigation are entering policing like a tidal wave, accompanied by official policies to prevent police violence and harassment, racism and sexism. How Somerset and Avon's Detective Superintendent Diamond, views these protocols can be inferred from the title,
The Last Detective
. Well into the 21st century, judging by
The Stone Wife
, Diamond remains an unreconstructed police of the old school.
Lovesey has written other mystery series -- all together he's published more than thirty books, despite beginning his writing career later than many successful writers do. He's won several crime fiction awards. His Victorian London plain clothes
Sergeant Cribb became a television series in 1979 - 1981
.
--------------------------
*
Though let me haste to say I have enjoyed these detectives very much, from Rebus, Dalgliesh and Lynley, not to mention Jane Tennison and Vera Stanhope.
American writers who happen to be women seem to do this differently, as with with Baltimore's Laura Lippman's Tess Moneghan, or Montreal's Louise Penny's Chief Inspector Gamache)