This was a non-dimensional tribute to Tolstoy's fiction -- sanitized of the terrors within his works, without any connection to the life the writer led, particularly of the terrible life he led Sophia, his wife, and their deeply troubled marriage, which was well known even then.
She was 18 when the 34-year old Leo Tolstoy married her.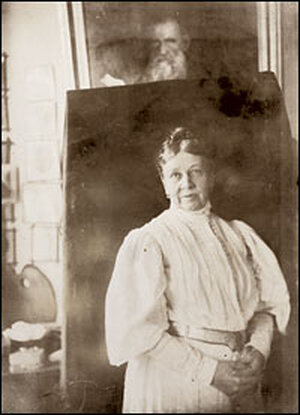 A self portrait
Sophia Tolstoy was a photographer and diarist of significance, dealing with both tsarist Russia and Tolstoy and their lives; she copied and edited Tolstoy's work; eight of her 13 children survived childhood -- there were miscarriages as well. Tolstoy himself found pregnancy and childbirth and babies disgusting, while she was overwhelmed with caring for the surviving children and everything else from keeping the accounts to overseeing running his estates, his serfs and the animals. Yet, people will wonder why their marriage became so troubled.