My apologies for not approving comments sooner -- I / we have just been so busy, and we are in another heat wave. We got Friday and Saturday off from heat waves, but we're in it again today. And this was a very busy weekend.
The Burr - Hamilton "Debate" was successful. You know it was because every single person there, including the participants, learned something s/he didn't know and / or came to consider something from a different angle -- such as considering Thomas Jefferson as the Founding Father who framed white supremacy. (That seemed to shock some (white) people, while evidently agreed with by some (African Americans) others. The friend I was sitting with kept cracking me throughout with his sotto voce remarks. G, who has a fine collection of African at, whispered at that point, "This is news?" The facial expression that went with the remark was so funny I had to cover my mouth from laughing out loud.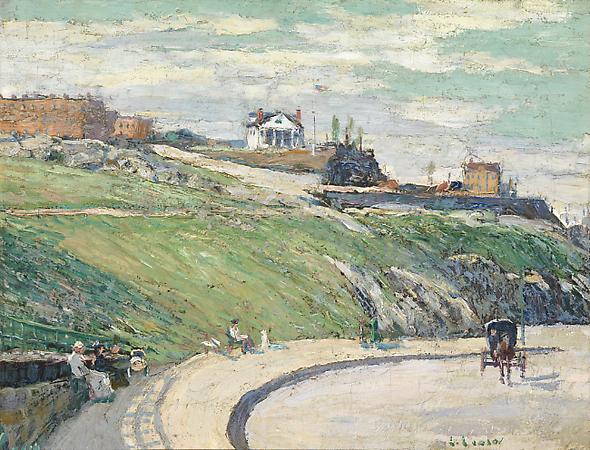 It was a lovely day for such an event. The heat had broken (it's back now, for another blistering, sweltering week), so it was pleasant in the Jumel mansion's music room and great hall, the breezes from the East River and the Hudson wafting through. This was an informed group who had gathered at the Jumel Mansion on this lovely afternoon with people from the neighborhood, early America historians, New York City tour guides, and members of the Hamilton Society and members of the Burr Society, between which there is friendly rivalry. Every anniversary they re-enact the duel at the Heights in Weehawken, New Jersey.
Afterwards we went across the street to K and C's to talk history with like-minded people. Present were two college students from an NYC college, as well as a couple of others who had come with their parents, and were on their way back to their studies in France. Very lovely those children. O, heartbreakingly lovely, so very young. So very talented and intelligent. They speak of their fear that they will never have work or positions that reflect their level of education. They will be stuck in the barista job that pays their rent, while students with the monied background that allows them not to worry about paying rent get to serve the unpaid internships that get them on the track to be hired to do what they are in college to be prepared to do.